---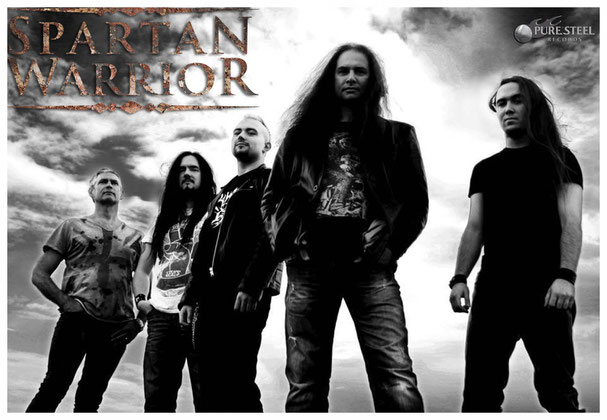 Die neu bei Pure Steel rekrutierten SPARTAN WARRIOR gehören zu den heissesten NWoBHM Acts. Mit "Steel n' Chains" und dem selbstbetitelten Zweitling veröffentlichten die Briten Mitte der 80iger zwei hochklassige Alben, welche unter Liebhabern bis heute grossen Kultstatus geniessen.

2009 reformierte sich die Band und kehrte mit dem neuen Album "Behind Closed Eyes" auf die Tonträger sowie auf die Bühnen zurück.
Nun steht mit "Hell To Pay" das vierte Album mit 10 Songs in den Startlöchern und von der alten Power haben die beiden Bandgründer Dave und Neil Wilkinson bis heute nichts eingebüsst.
Straight forward rocken sich die Herren durch gut 45 Minuten rock'n'rolligen Urknall-Metal, wie man ihn auch von Kollegen wie SAXON und UFO kennt, schätzt und liebt.
Mit der kraftvollen Rhythmussektion um James Charlton (drums) und Tim Morton (bass) liefert SPARTAN WARRIOR die Grundlage für Heavy-Metal-Kracher wie "Walls Fall Down", "Fallen", "In Memorium" oder den Titeltrack "Hell To Pay", aber gleichzeitig werden auch ruhigere Gefilde mit "Something to Believe In", "Lettin Go" oder "Bad Attitude" bedient.
Mit dem Gitarrenduo Neil Wilkinson und Dan Rochester sowie Sänger David Wilkinson haben SPARTAN WARRIOR nichts von ihrem altbekannten Biss verloren.
Diskografie
Steel n' Chains (1983)
Pure Overkill (1983, Split)
Spartan Warrior (1984) 
Never Take Me Alive (2009, Single)
Behind Closed Eyes (2010)
30th Anniversary (2013, Demo)
Line-Up:
Dave Wilkinson – vocals
Neil Wilkinson – guitars
Tim Morton – bass
James Charlto – drums
Dan Rochester – guitars
Tracklist: "Hell To Play"

 1. Hell To Pay
 2. Bad Attitude
 3. Letting Go
 4. Court Of Clowns
 5. Something To Believe
 6. Walls Fall Down
 7. Shadowland
  8. Covered In Lust
  9. Fallen
10. In Memorium
Total Playing Time: 51:50 min
---