---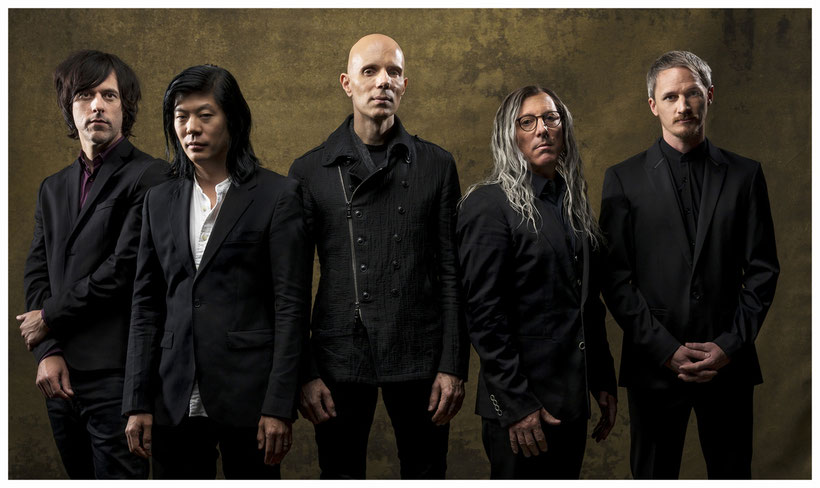 Die Katze ist aus dem Sack, die Sensation perfekt: Die US-Kultband 'A Perfect Circle' kündigt nach 14 Jahren den Release ihres 4. Studioalbums an! Nachdem die Gerüchteküche in den letzten Wochen fast überkochte ist es jetzt also hochoffiziell: Am 20. April meldet sich die amerikanische 'Alternative Rock'-Institution um TOOL-Frontmann Maynard James Keenan mit ihrem brandneuen Langspieler »Eat The Elephant« zurück. Das Album erscheint über BMG im Vertrieb von Warner Music.
Schon in den letzten Jahren wurde viel darüber spekuliert, wann die beiden APC-Masterminds Maynard James Keenan und Gitarrist Billy Howerdel wieder ihre kreativen Kräfte bündeln würden. Anfangs 2017 kündigte 'A Perfect Circle' dann die Arbeit an einem neuen Album und eine Nordamerika-Tournee an, die wiederum innerhalb weniger Minuten ausverkauft war. Mit dem auf ihrer Tour im vergangenen Herbst veröffentlichten Vorab-Track 'The Doomed' erreichte die Fieberkurve schliesslich einen ersten Höhepunkt, der mit den kürzlich hinterher geschickten Songs 'Dissillusioned' & 'Talk Talk' noch einmal getoppt wurde. »Eat The Elephant« wurde von Dave Sardy (Manson, Slayer, Oasis, ZZ Top, Incubus) produziert und ist das erste APC-Album seit dem 2004 erschienenen »eMOTIVe«.
A Perfect Circle entstand 1999 in Los Angeles als Nebenprojekt von Tool-Sänger Maynard James Keenan und Billy Howerdel (Ashes Divide). Das Band-Line-up wurde von Album zu Album von namhaften Musikern komplettiert. So waren dies in der Vergangenheit Josh Freese, Troy Van Leeuwen (QOTSA, Sweethead), Paz Lenchantin (Zwan), Jeordie White (aka Twiggy - Marilyn Manson) oder James Iha (Tinted Windows, Smashing Pumpkins). Auf dem aktuellen Album sind es neben Keenan, Howerdel und Iha Jeff Friedl (Puscifer, The Beta Machine) und Matt McJunkins (Eagles of Death Metal, The Beta Machine), welche die Band vervollständigen.
Zeitnah zum Release von »Eat The Elephant« sind 'A Perfect Circle' auch wieder live zu erleben. Neben Auftritten auf dem Coachella, Las Rageous, Northern Invasion oder Rocklahoma ist die Band ebenfalls auf ihrer aller ersten Europa-Tour seit 2004 zu sehen. In der Schweiz machen die Herren am 20.06.18 in der Halle 622 in Zürich Halt.
(Pressetext)
---