---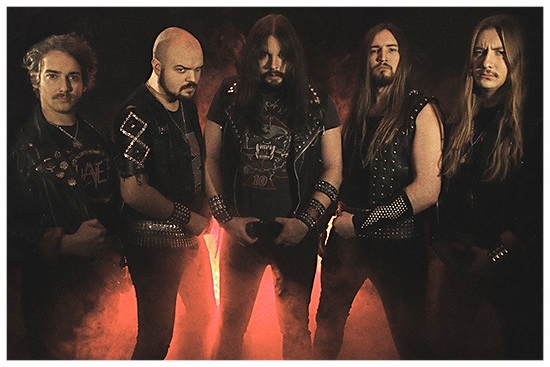 Metal Blade Records verkünden mit Stolz, einen Vertrag mit den deutschen Speed-Metallern VULTURE abgeschlossen zu haben.

Das Quartett hat für mehrere Alben unterschrieben und arbeitet gerade an Songs für eine neue Scheibe, die gegen Ende des Jahres erscheinen soll.

VULTURE zum Vertragsabschluss: "Wir fühlen uns stolz und geehrt, offiziell ankündigen zu dürfen, dass wir von jetzt an mit METAL BLADE RECORDS zusammenarbeiten! Für uns schliesst sich mit dem Vertrag bei diesem legendären Label, wo so viele Alben herauskamen, die unsere Leidenschaft für extremen Metal geschürt haben, sozusagen ein Kreis. Wir sind jetzt motivierter und blutrünstiger denn je und arbeiten derzeit an neuen Stücken für unser zweites Album. Attention posers! Prepare to die!"

Das High-Speed-Metal-Kommando VULTURE wurde im Spätsommer 2015 gegründet. Ein halbes Jahr später erschien mit 'Victim To The Blade' ein erstes Demo.

Darauf enthalten waren vier rasante, gespenstische Killersongs, die in der Szene gehörigen Rummel verursachten. Die Resonanzen fielen so hervorragend aus, dass das Demo mehrmals als EP auf Vinyl und CD wiederveröffentlicht wurde, woraufhin die Band stark besuchte Konzerte und Festivals in ganz Europa spielte, etwa beim Metal Assault, Hell Over Hammaburg oder dem berüchtigten Live Evil Festival in London.

VULTUREs erstes Album »The Guillotine« erschien im Sommer 2017 und zeigte die Band weiterhin in Hochform - acht gewaltige Songs, noch wilder und aggressiver als ihre Vorgänger. Mit mehr Melodie und Abwechslung bewiesen VULTURE eindeutig, dass sie keine weitere schale Huldigung der Metal-Szene der 80er sind.

Nun, da sie seit einigen Monaten zu fünft sind und einen festen Schlagzeuger haben, befinden sich VULTURE endgültig auf einem Höhenflug, was man ihrem kommenden zweiten Album anhören wird. Das Studio für die Aufnahmen ist bereits gebucht, und wir dürfen euch eines versichern: VULTURE kills!
---