---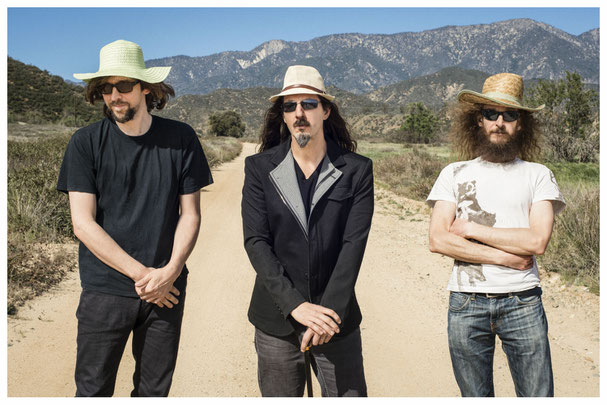 Von einer «supergroup» sollte man ja nicht allzu rasch sprechen, doch bei den «Aristocrats» ist dies berechtigt. Hier haben sich 2011 drei Koryphäen des Prog-Rocks und drei Meister ihrer Instrumente auf Anhieb und nach nur einer Probe gefunden, sind bis heute zusammengeblieben und sind - trotz vieler weiterer Engagements - als Band extrem produktiv und aktiv. Gitarrist Guthrie Govan und Drummer Marco Minnemann spielten beide mit Steven Wilson, dem anderen grossen Szenen-Aushängeschild, und Bassist Bryan Beller mit Joe Satriani, auf dessen legendärer G3-Tour sie 2016 auch zu Gast waren. Die Band wird von ihren Fans weltweit gefeiert und vergöttert, obwohl die Kost, die ihnen vorgesetzt wird, ja keine leichte ist: Die Einflüsse reichen von 70er-Fusion à la Return to Forever über King Crimson, Frank Zappa bis hin zu Metal. Aber die Chemie stimmt oder in den Worten Govans: «The Aristocrats are a rowdy democracy of musicianship.» Oh yeah!
Einziges Konzert in der Schweiz!!
Freitag 14.09.2018
20:00 Uhr, Kaufleuten Zürich
Preise
CHF 50 (Stehplätze Parkett); limitierte Anzahl reservierte Sitzplätze auf dem Balkon à CHF 75; nur über www.kaufleuten.ch buchbar!
Vorverkauf
www.kaufleuten.ch • www.allblues.ch • www.ticketcorner.ch • Alle Ticketcorner, Die Post, Manor, SBB, Tel. 0900 800 800 (CHF 1.19/min.)
» Sitz- und Stehplatz-Tickets bei Kaufleuten online bestellen
» Stehplatz-Tickets bei Ticketcorner online bestellen

Essen Sie vor dem Konzert in den Kaufleuten Restaurants zu Abend.
Tel. Reservationen: 044 225 33 33.
Infos und Online Reservation: 
» Web Restaurant

Programm:
19.00h Türöffnung
20.00h The Aristocrats
---