---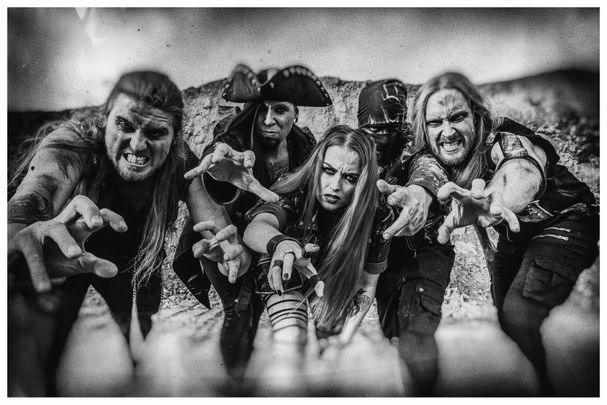 Vergesst alles, was war und alles, was ihr zu kennen glaubtet, denn nun bricht eine Formation mit einer derart gewaltigen Eruption aus den Weiten des Weltraumes empor, die so phänomenal ist, dass es einem den Atem raubt. Unumstritten: FOLLOW THE CIPHER setzen neue Massstäbe und läuten eine musikalische Ära ein, die diese Welt noch nicht erlebt hat! Ein in sich perfektes Gesamtkonstrukt zeichnet die Kunst der metallischen Schwedenformation aus, die trotz ihrer stilistischen Vielfalt nahtlos ineinander greift; erstklassige Musik, umwerfendes Charisma, innovative Konzeption, unvergessliche Live-Präsenz und eine unfassbar begabte Sängerin ergeben ein eindrucksvolles Ganzes, das stimmig bis ins letzte Detail überzeugt.

Heute enthüllen FOLLOW THE CIPHER das Coverartwork ihres selbstbetitelten Debüts, das am 11. Mai über Nuclear Blast erscheinen wird. Gitarrist und Bandgründer Ken Kängström dazu:
"Wir hatten das Glück, mit Chris Rörland von SABATON arbeiten zu dürfen, der viele unterschiedliche Talente besitzt. Chris und ich sassen viele Stunden zusammen und entwickelten schnell eine gemeinsame Vision des Resultats. Chris schien meine Gedanken förmlich lesen zu können. Wir entschieden uns, vorwiegend die Farben rot und schwarz einzusetzen und das Szenario der Kriegszone einer zerstörten, zukünftigen Welt darzustellen. Das passt zu der Trauer und Aggression, die sich durch das gesamte Album zieht sowie die stimmliche Wut, die Linda in manchen Tracks anschlägt. All das spiegelt sich in dem Artwork wieder, mit dem wir hochzufrieden und glücklich sind."
FOLLOW THE CIPHER präsentieren heute ebenfalls den ersten Albumtrailer, worin sie über ihre Anfänge und die vergangene Zeit seit der Gründung im Jahre 2014 sprechen. Seht den Trailer hier:
---