---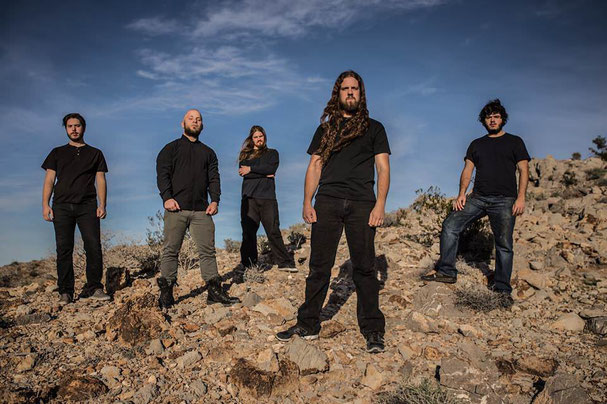 RIVERS OF NIHIL haben heute ihr drittes Studioalbum »Where Owls Know My Name« auf Metal Blade Records veröffentlicht! l
Zur Feier des Erscheinens von
»Where Owls Know My Name«
haben RIVERS OF NIHIL ein neues Video zum Song
'A Home'
online gestellt. Regie führte David Brodsky (
davidsbrodsky.com
), und anschauen könnt ihr euch den Clip hier:
RIVERS OF NIHIL bemerken dazu: "Wir haben uns wieder mit dem legendären Dave Brodsky und dem Rest des tollen Teams von MyGoodEye Visuals kurzgeschlossen, um ein Video zu 'A Home' von unserem neuen Album »Where Owls Know My Name« zu produzieren, das heute herauskommt! Der Clip wurde in unserer Heimatstadt Reading in Pennsylvania gedreht, also darf man den Songtitel wortwörtlich nehmen. Schaut vorbei, wenn wir in den nächsten fünf Wochen auf unserer Tour durch die USA und Kanada in eurer Nähe sind. Wir spielen gemeinsam mit Dying Fetus, Thy Art is Murder, Enterprise Earth und Sanction!"
»Where Owls Know My Name« vereinte Rivers of Nihil wieder mit dem Monarchy-Produzenten Carson Slovak, der schon mit Bands wie August Burns Red, The Last Ten Seconds of Life oder Candlebox arbeitete. Das Album wurde 2017 im Atrium Audio Studio in Pennsylvania aufgenommen, das Slovak gemeinsam mit Grant McFarland (Texas in July, Everclear) vor zehn Jahren eröffnete.
Gitarrist Brody Uttley erklärt zum Album:
"Diese Platte zeigt Rivers of Nihil genau so, wie wir klingen möchten. Viele Bands werden zu routiniert und bringen immer wieder das gleiche Album heraus. Sich ständig auf dieselbe Formel zu verlassen mag anderen genügen, ist aber für uns ausgeschlossen. Musik ist Kunst, und Kunst wandelt sich ständig. Ohne Veränderung kein Fortschritt. Ohne Fortschritt erlischt die Flamme der Kunst und Ausdruckskraft. Dieses Album macht hörbar, woher wir kommen, wer wir sind und wohin wir gehen."
Bassist/Sänger Adam Biggs fügt hinzu:
"Diesmal habe ich im Vergleich zu den beiden ersten Albem persönlichere Texte geschrieben. Die Story geht mehrere Jahrtausende nach den Ereignissen von 'Monarchy' weiter. Eine Person bleibt am Leben, auserwählt vom Planeten als einziges intelligentes Wesen, das sein letztgültiges Schicksal bezeugen soll. »Where Owls Know My Name« fußt aber nicht so stark auf der übergreifenden Erzählung wie die ersten beiden Scheiben. Das Szenario dient nur als Kulisse für emotionaleres Material, das wir uns im Vorfeld vorgenommen hatten. Letztlich geht es um Verlust, das Älterwerden und Erreichen eines Punktes, an dem der Tod im eigenen Leben einen höheren Stellenwert einnimmt."
Bestellen: http://www.metalblade.com/riversofnihil/
Tracklist: »Where Owls Know My Name
«
05. Subtle Change (Including the Forest of Transition and Dissatisfaction Dance)
06. Terrestria III: Wither
09. Where Owls Know My Name
10. Capricorn / Agoratopia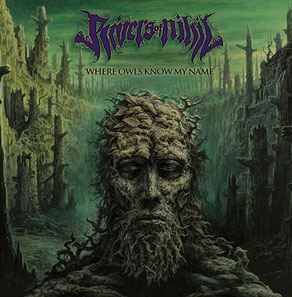 ---