---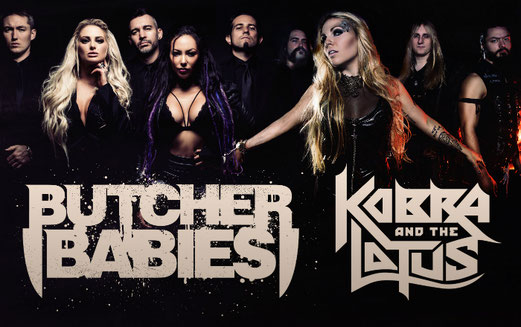 Für diese Konzert verlosen wir 2 x 2 Tickets >>>

(Pressetext)
Seit bald einer Dekade begeistern die BUTCHER BABIES mit ihrer teuflischen Liveperformance und ihrer explosiven Energie Fans weltweit. Denn, was einst ganz klein begann ist heute ganz schön gross geworden: Die beiden Sängerinnen Carla Harvey und Heidi Shepherd arbeiteten zuvor als TV- bzw. Radiomoderatorinnen für den Playboy-Konzern und lernten sich in einer rein weiblichen Punkband kennen. Nach deren Zerfall beschlossen sie 2010 gemeinsam die Band BUTCHER BABIES zu gründen und holten den Gitarristen Henry Flury (AMEN), dem Bassisten Jason Klein (AZDACO) und den Schlagzeuger Chase Brickenden mit ins Boot.
Weit um den Sunset Strip wurde die Band schnell zum Geheimtipp in der Metal Szene. Verschiedene Labels interessierten sich für die Amerikaner, und so flattere Ende 2012 bereits der erste Record Deal mit Century Media Records ins Haus. Kurz darauf tourten die Schlächterkinder im Vorprogramm von Grössen wie MARILYN MANSON, ROB ZOMBIE oder 5FDP.
Als Co-Headliner werden die Kanadier KOBRA AND THE LOTUS um Frontfrau Kobra Paige die Kofmehl-Bühne betreten. Gegründet 2009, tourten KOBRA AND THE LOTUS die letzten Jahre fast ununterbrochen durch USA, Kanada und Europa inkl. Auftritten beim legendären Wacken Open Air oder dem renommierten Download Festival in England.
---