---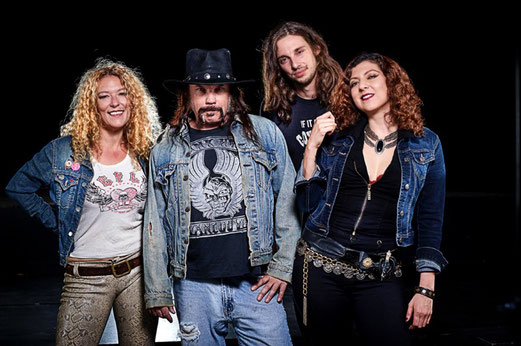 Am 21. September erscheint endlich das neue NASHVILLE PUSSY-Album «Pleased To Eat You». Ein Musikvideo zum Song 'We Want A War' erschien bereits Ende Juli. Nun haben die Hard-Röck'n'Röller aus Atlanta ein Track-by-Track-Audio-Clip mit allen 13 Songs auf YouTube gepostet. 
Auch beim siebten Studioalbum «Pleased To Eat You» bleiben NASHVILLE PUSSY ihrem Stil und ihrer Attitude treu. Gitarristin Suys enthüllt das Geheimrezept: «Wir ignorieren jeden musikalischen Trend. NASHVILLE PUSSY bietet diese anspruchslose Auszeit, bei der man die Seele baumeln lässt und so richtig laut, verschwitzt und dreckig sein darf.» Die Texte der vierköpfigen Truppe drehen sich seit ihrer Gründung 1996 zumeist um Alkohol, Sex, Religion und Politik, bei denen es (nach Angaben der Band) vor allem um «freie Meinungsäusserung» geht.
Den Track-by-Track-Clip könnt ihr unten anhören und das Musikvideo zum Song
'We Want A War'
hier ansehen:
Vorbestellen: Auf Bild klicken!
---