---
(Pressetext)
Die legendäre »Death Is Just The Beginning«-Compilation kehrt zurück! Aber nicht nur das: unter diesem Banner geht im Herbst auch das grandiose Package aus KATAKLYSM, HYPOCRISY und THE SPIRIT auf ausgiebige Tour. Natürlich sind alle drei Bands auch auf dieser Ansammlung an Hochkarätern vertreten, die kanadischen Death Metaller beispielsweise mit einer Neuaufnahme ihres Klassikers 'The Awakener'. HYPOCRISY bieten eine Coverversion von 'They Lie' (The Exploited) und THE SPIRIT lassen einen Song ihres NUCLEAR BLAST-Labeldebüts »Sounds From The Vortex« hören.

»Death Is Just The Beginning MMXVIII« wird am 19. Oktober 2018 via Nuclear Blast veröffentlicht.

NUCLEAR BLAST hat dazu nun einen neuen YouTube-Trailer veröffentlicht, in dem der auf der Compilation enthaltene Song 'Frozen Illusion' von PARADISE LOST vorgestellt wird.

Zu sehen gibt es den Clip hier:
Die Band kommentiert:
"Frozen Illusion is one of the first ever songs we wrote for Paradise lost, literally in the top 3! All these years later, It was a surprisingly quick & very natural process to re-record it and we actually found out, despite our twists and turns musically over the years when it comes back full circle, we haven't really changed that much as a band at all."
Tracklist: »Death Is Just The Beginning MMXVIII«
01. BENEDICTION - Tear Off These Fucking Wings (demo)
02. KATAKLYSM - The Awakener (re-recorded)
03. HYPOCRISY - They Lie (The Exploited)
04. THE SPIRIT - Illuminate The Night Sky
05. MEMORIAM - The War Rages On (demo)
06. INSIDIOUS DISEASE - Soul Excavation
07. POSSESSED - Abandoned (demo)
08. THY ART IS MURDER - The Son Of Misery
09. IMMOLATION - Morbid Visions (feat. Max Cavalera) (Sepultura cover)
10. NAILED TO OBSCURITY - King Delusion
11. BLEEDING GODS - Beloved By Artemis
12. DECAPITATED - Sane (Meshuggah cover)
13. AENIMUS - Before The Eons
14. PARADISE LOST - Frozen Illusion
15. CARCASS - A Wraith In The Apparatus
16. BRUJERIA - Viva Presidente Trump!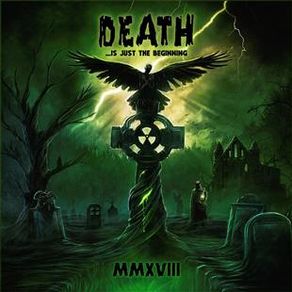 ---