---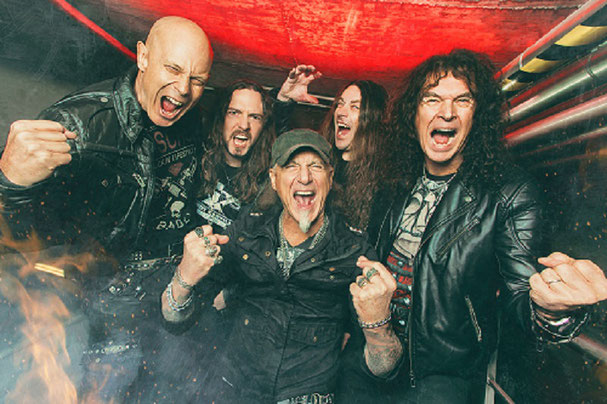 (Pressetext)
ACCEPT sind erfolgreicher und kreativer denn je! Im zehnten Jahr ihrer Wiedervereinigung, kann das Quintett auf vier Top Ten-Alben zurückblicken, inkl. des sensationellen Platz #1 mit »Blind Rage« (2014) und des ebenfalls großartigen Platz #3 mit ihrer aktuellen CD »The Rise Of Chaos« (2017).

In den vergangenen Monaten waren die inzwischen international besetzten Stahlarbeiter aus Nordrhein-Westfahlen nicht untätig und finalisierten die Arbeiten an ihrem kommenden Live-Release »Symphonic Terror – Live at Wacken 2017«, welches am 23. November über Nuclear Blast erscheint.
Die Fans dürfen sich auf die einzigartige, zweistündige ACCEPT-Show freuen, die am 3. August 2017 auf dem "heiligen Rasen" des legendären W:O:A stattfand. Dort spielten ACCEPT vor über 80.000 Leuten (und mehreren hunderttausend Fans im Livestream) ihre bis dato größte und außergewöhnlichste Show. In drei Teilen präsentierten ACCEPT ihre gesamte Kreativität und Schaffenskraft. Eröffnet wurde das Set im gewohnten Metal-Gewand, inkl. der Weltpremiere des neuen Tracks 'Die By The Sword', der Live-Feuertaufe ihrer Single 'Koolaid' sowie Gassenhauern wie 'Restless And Wild' und 'Pandemic'.
Im Mittelteil präsentierte Gitarrist Wolf Hoffmann, begleitet von einem kompletten Symphonie-Orchester, in spektakulärer Manier das Beste aus seinem aktuellen Solowerk »Headbangers Symphony«, das die Metal-Versionen der größten und bekanntesten Klassik-Werke - von Meistern wie z.B. Beethoven, Mozart und Vivaldi - auf die Bühne brachte.
Im großen Finale dann, erlebten die begeisterten Zuschauer erstmals die größten Hits und Kracher von ACCEPT mit Orchester-Begleitung! Den Auftakt bildete die Metalhymne 'Princess Of The Dawn', gefolgt von Klassikern wie 'Breaker', 'Fast As A Shark', bis hin zu dem für dieses Event geradezu prädestinierte 'Metal Heart'. Ebenso frenetisch gefeiert wurden die Hits ihrer jüngsten Alben, wie z.B. 'Stalingrad', 'Shadow Soldiers' und 'Teutonic Terror', ehe zum Finale furioso eine über 8-minütige Version ihres Mega-Songs 'Balls To The Walls' die Massen in Ekstase versetzte.
Übrigens: Was in Wacken als Uraufführung begann und (Live-Streams sei Dank) auf der ganzen Welt für Aufsehen und größte Anerkennung sorgte, geht im Frühjahr 2019 in Serie.
Das heißt: ACCEPT planen ab Frühjahr 2019 eine große Tour mit Orchester durch ganz Europa!
---
In den folgenden Formaten erhältlich:
BluRay+2CD-DIGI
DVD+2CD-DIGI
2CD-DIGI
3LP Box (black) incl. booklet, poster
3LP Box (gold) incl. booklet, poster // NB Mailorder exclusive
BluRay+DVD+2CD-Earbook
BluRay+DVD+2CD-Earbook + photo card (signed) // NB Mailorder exclusive

Vorbestellen könnt ihr hier: http://nblast.de/AcceptSymphonicTerror
Part 1: Accept
01. Die By The Sword
02. Restless And Wild
03. Koolaid
04. Pandemic
05. Final Journey
Part 3: Accept with Orchestra
12. Princess Of The Dawn
13. Stalingrad
14. Dark Side Of My Heart
15. Breaker
16. Shadow Soldiers
17. Dying Breed
18. Fast As A Shark
19. Metal Heart
20. Teutonic Terror
21. Balls To The Wall
Bonus:
22. Making Of: Wacken
23. Making Of: Headbanger's Symphony
Part 2: Headbanger's Symphony
06. Night On Bald Mountain
07. Scherzo
08. Romeo And Juliet
09. Pathétique
10. Double Cello Concerto in G Minor
11. Symphony No. 40 in G Minor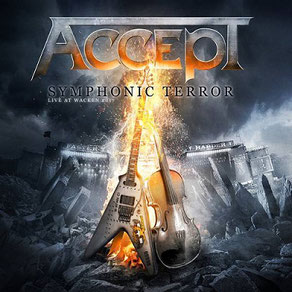 ---