---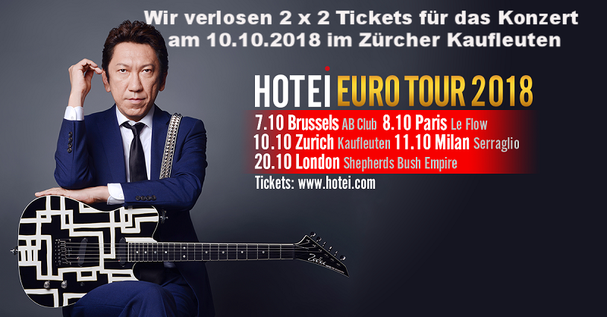 (Pressetext)
Der legendäre japanische Rockgitarrist
Die Fans von Quentin Tarantino kennen ihn: Der legendäre japanische Gitarrist und Sänger Hotei schrieb den Song «Battle without Honor and Humanity» für Tarantinos Kultfilm «Kill Bill», der auch im Trailer des Filmes verwendet wurde. In Japan ist Hotei ein Superstar und einer der bekanntesten Rockmusiker. Er verkaufte in seiner seit über drei Jahrzehnten andauernden Karriere 40 Millionen Alben, er tritt in den Arenen von Tokio auf und spielte zusammen mit David Bowie, den Rolling Stones, Iggy Pop und sogar mit Zucchero, wenn diese in Japan auftraten. Nun macht sich der seit 2012 in London lebende Hotei auf, auch Europa zu erobern, begleitet von einer starken Band mit Mark Neary am Bass (Adele, U2) und Steve Barney am Schlagzeug (Anastacia, Jeff Beck). Seinen mitreissenden, mit viel Drive gespielten Rock präsentiert er in Zürich am Mittwoch, 10. Oktober 2018 im Festsaal des Kaufleuten: Not to be missed!
Für diese Konzert verlosen wir 2 x 2 Tickets
Einsendeschluss 07.10.2018
Mail an: swissattack-tickets@gmx.ch mit vollständiger Adresse!
---