---
---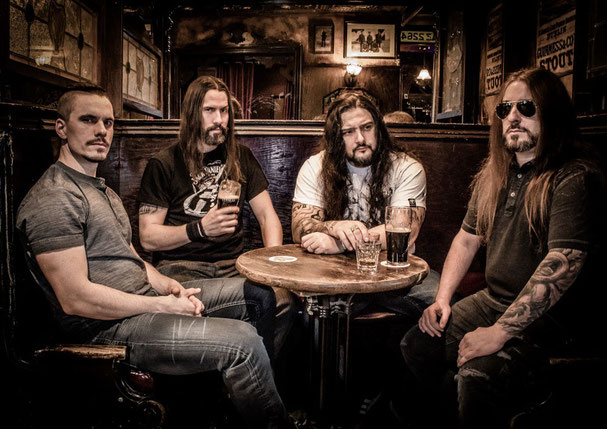 (Pressetext)
Die Montréaler Melodic-Death-Metaller KATAKLYSM starten diesen Donnerstag die große "Death... Is Just The Beginning"-Europatournee mit ihren Labelmates von HYPOCRISY und THE SPIRIT. Heute veröffentlicht die Band ein neues, animiertes Musikvideo zum Song "...And Then I Saw Blood".

KATAKLYSM erkundeten eine neue kreative und künstlerische Seite, als sie den berühmten rumänischen Visionär Costin Chioreanu anheuerten, um die Geschichte von "... And Then I Saw Blood" zu erzählen. Das Video zeichnet eine post-apokalyptische Welt auf. Zwei sterbende Brüder werden in eine Einrichtung gebracht, in der ihre Gedanken in eine digitale, virtuelle Welt hochgeladen werden, die von Unterdrückern der Menschheit beherrscht und kontrolliert wird. Während die Hoffnung stirbt, sich dem System zu widersetzen, sind die beiden Brüder gezwungen, eine Entscheidung zu treffen - Entweder ihrem menschlichen Instinkt oder ihrem neu gefundenen Bewusstsein zu folgen.
KATAKLYSM Frontmann kommentiert:
" '…And Then I Saw Blood' can be interpreted in many different ways as it has an open concept to it. Everyone can see it the way they want but we wanted an animated video done with an artistic flair. Costin was the perfect artist to do it. I told him the central theme of the track deals with the betrayal of two close friends. I asked him to bring in his own world on how he envisioned the song and theme. Costin totally out did himself in this futuristic but realistic interpretation of where we are headed as people continue to get absorbed by technology and this urge to create something bigger, stronger, and more intelligent in this obsession to become godlike."
KATAKLYSM live:
»Death…Is Just The Beginning«
w/ HYPOCRISY, THE SPIRIT
18.10. D Wiesbaden - Schlachthof
19.10. D Stuttgart - LKA Longhorn
20.10. D Munich - Backstage
21.10. CZ Zlín - Masters of Rock Café
23.10. H Budapest - Barba Negra
24.10. A Vienna - Arena
25.10. PL Wrocław - Zaklęte Rewiry
26.10. D Geiselwind - MusicHall
27.10. I Milan - Live Music Club
28.10. CH Pratteln - Z7
29.10. F Lyon - Ninkasi Kao
31.10. E Madrid - Sala Mon
01.11. E Barcelona - Razzmatazz 2
02.11. F Limoges - CC John Lennon
03.11. F Paris - La Machine du Moulin Rouge
04.11. B Antwerp - Trix
05.11. D Hamburg - Docks
06.11. S Gothenburg - Trädgår'n
07.11. S Stockholm - Fryshuset
09.11. FIN Helsinki - The Circus
10.11. FIN Tampere - Pakkahuone
12.11. DK Copenhagen - Pumpehuset
13.11. NL Leeuwarden - Neushoorn
14.11. D Berlin - Kesselhaus
15.11. D Dresden - Eventwerk
16.11. D Oberhausen - Turbinenhalle 2
17.11. D Leipzig - Hellraiser
---