---
---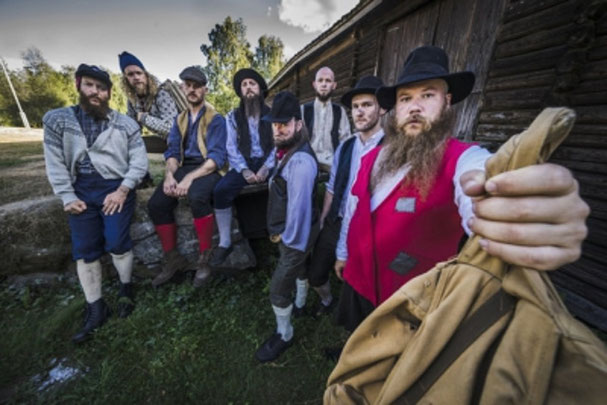 (Pressetext)  TROLLFEST veröffentlichen neue Platte «Norwegian Fairytales» am 18. Januar 2019.  Kurz nach Weihnachten sind die heimischen Trollaktivitäten bekanntlich am größten, also macht euch bereit für winzige Gestalten, die am 18. Januar 2019 durch den Vorgarten huschen, um das neue TROLLFEST Album «Norwegian Fairytales» abzuliefern. Unlängst sind die Osloer Folkmannen wieder am Start und was wäre thematisch passender, als sich auf ihrem mittlerweile achten Studioalbum voll und ganz elf norwegischen Sagen hinzugeben.
"With
«

Norwegian Fairytales

» we wanted to do something we have never done before, embracing Norwegian Folk-music and Norwegian Folk-lore. When we started this project, we had no idea how difficult it would be to combine Norwegian Folk-melodies together with our Balkan-influences, but after one year of trial and error we ended up with 11 killer tracks and we can't wait to share this with the rest of the world. "Norwegian Fairytales" is 100% "True Norwegian Balkan Metal"!"
Nach acht Longplayern seit ihrer Gründung vor 14 Jahren steht in regelmäßigen Abständen Neues aus dem Koboldhaus an und diesmal wichen die Texte über Saufgelage in trollischer Sprache den anspruchsvolleren Legenden, die die Band aus den Büchern ihrer Vorfahren sammelte und in ihrer Muttersprache vorträgt. Der Spaß bleibt dabei aber in keinem Moment auf der Strecke und voller schwingender Tanzbeine, Witz und unbändiger Energie festigen TROLLFEST ihren Status als schrillste Band im Folkwald.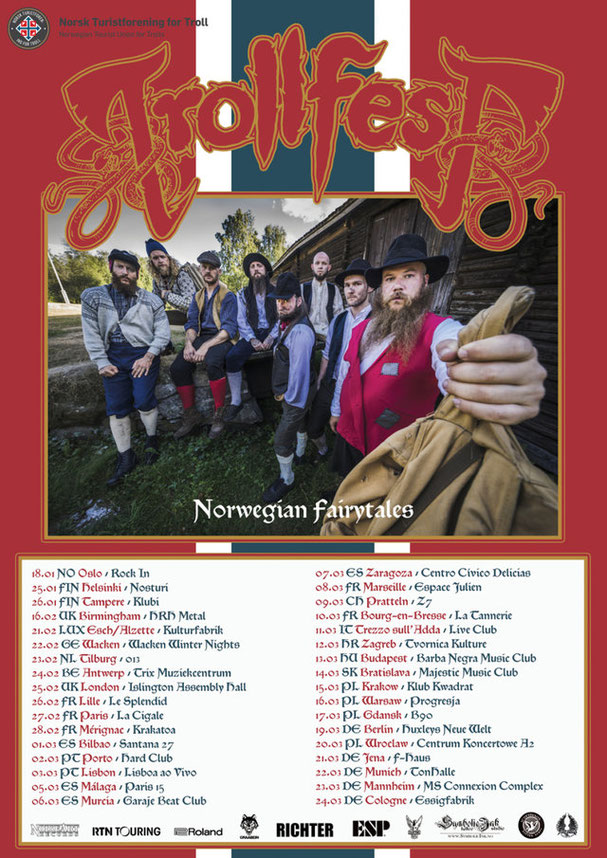 «

Norwegian Fairytales

» Album-Releaseshow: 18.01. NO - Oslo - Rock In
25.01. FIN Helsinki - Nosturi (w/ KORPIKLAANI, PROFANE OMEN & special guests WALTARI)
26.01. FIN Tampere - Klubi (w/ KORPIKLAANI & PROFANE OMEN)
16.02 UK Birmingham - HRH Metal
»Wayfarers & Warriors Tour 2019«
w/ KORPIKLAANI, TURISAS, TROLLFEST
21.02. LUX Esch an der Alzette - Kulturfabrik
22.02. D Wacken - Wacken Winter Nights
24.02. B Antwerp - Trix Muziekcentrum
25.02. UK London - Islington Assembly Hall
26.02. F Lille - Le Splendid
27.02. F Paris - La Cigale
28.02. F Mérignac – Krakatoa
01.03. E Bilbao - Santana 27
02.03. P Porto - Hard Club
03.03. P Lisbon - Lisboa ao Vivo
05.03. E Málaga - Paris 15
06.03. E Murcia - Garaje Beat Club
07.03. E Zaragoza - Centro Cívico Delicias
08.03. F Marseille - Espace Julien
10.03. F Bourg-en-Bresse - La Tannerie
11.03. I Trezzo sull'Adda (MI) - Live Club
12.03. HR Zagreb - Tvornica Kulture
13.03. H Budapest - Barba Negra Music Club
14.03. SK Bratislava - Majestic Music Club
15.03. PL Krakow - Klub Kwadrat
16.03. PL Warsaw - Progresja
19.03. D Berlin - Huxleys Neue Welt
20.03. PL Wroclaw - Centrum Koncertowe A2
22.03. D Munich - TonHalle
23.03. D Mannheim - MS Connexion Complex
24.03. D Cologne - Essigfabrik
---