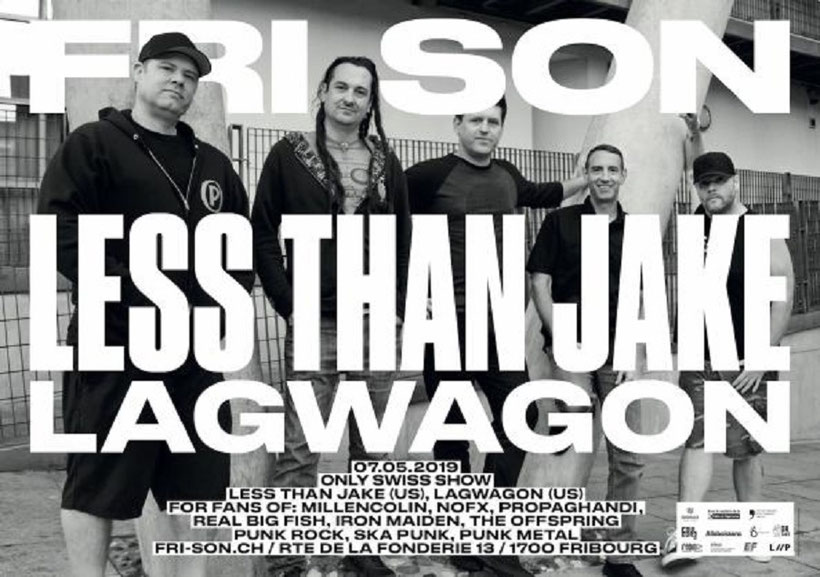 « We've been touring and making awesome music for decades and we're not about to give up! »
Dieser Satz allein fängt die Essenz von Less Than Jake ein. Die 1992 in Gainesville, Florida, gegründete Band hat sich längst als Anker und Leuchtturm der Independent Punk Szene etabliert. Sie besteht seit 2000 aus den gleichen Mitgliedern und ist eine der beständigsten und unterhaltsamsten Live-Acts der Punk-Rock-Szene. Im Laufe ihrer Karriere haben Less Than Jake für Headliner wie Bon Jovi, Linkin Park und Snoop Dog als Support Act eröffnet und fanden die frenetische Unterstützung von Bands wie Fall Out Boy, Paramore und Yellowcard. Immer ihren Punk-Rock-Wurzeln treu bleibend, hat die Band alle Höhen und Tiefen der musikalischen Trends überlebt, indem sie sich selbst geblieben ist. Mit der Energie und dem Überschwang halb so junger Bands gepaart mit der Entschlossenheit erfahrener Veteranen produziert die Band weiterhin neue Songs und hat nicht ansatzweise die Absicht, in absehbarer Zeit in den Ruhestand zu treten.
Lagwagon wurde 1988 in Goleta, Kalifornien, gegründet und benannte sich nach dem Fortbewegungsmittel der Band, einer offenbar ziemlich alten und launischen Klapperkiste (Lagwagon wörtlich übersetzt heisst "Nachlaufwagen »). Schnell entwickelte die Band ihren ureigenen und unverwechselbaren Stil: ein frenetischer und hochtechnischer und Pop-Punk, geprägt von schnellen Drums, virtuosen Gitarrenlinien und einem untrügbaren Gefühl für Melodie. Mit dieser Mixtur hatten sie nachhaltigen Einfluss auf die Punk-Szene der 90er Jahre und die Entwicklung des melodischen (Hardcore)Punk. 1992 erschien ihr erstes Album (« Dhu ») auf Fat Mikes Label Fat Wreck Chords, welchem die Band bis heute treu geblieben ist. Bis 2009 veröffentlichte die Band 9 Alben, dann wurde es still bis sie 2014 mit dem Album « Hang » zurückkehrten, ein Album, welches dunkler ist als die seine Vorgänger und dorthin trifft, wo es weh tut, indem es Themen wie Verrat, Trauer und Alter behandelt. Mit 30 Jahren Live-Erfahrung auf dem Buckel ist die Band zweifellos in der Lage, die Bühne kontrolliert und gekonnt auseinanderzunehmen.
Für diese Konzert verlosen wir 3 x 2 Tickets
Einsendeschluss 28.04.2019
Mail an: swissattack-tickets@gmx.ch mit vollständiger Adresse!