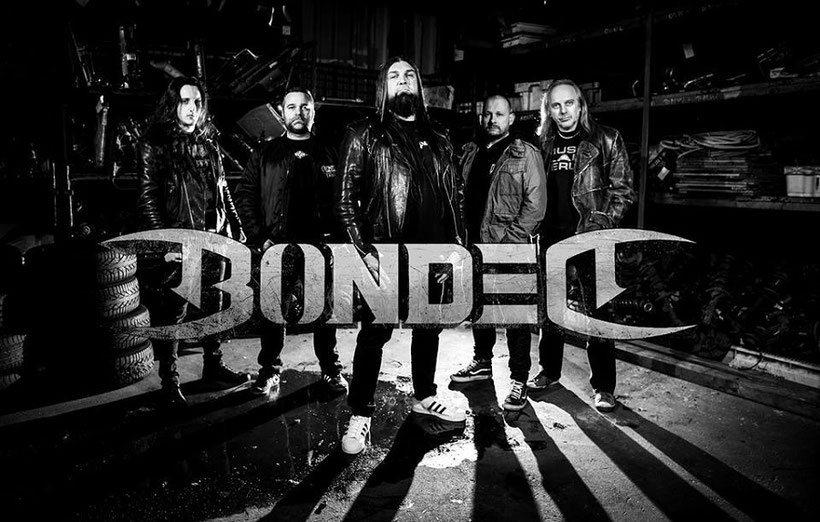 Die neue Band besteht neben Ex-SODOM-Gitarrist Bernemann und dem ehemaligen Schlagzeuger Markus Freiwald aus Sänger Ingo Bajonczak (ASSASSIN, Ex-LORD OF GIANT, -NEW DAMAGE), Gitarrist Chris Tsitsis (DESTROY THEM, Ex-SUICIDAL ANGELS) und Bassist Marc Hauschild. Eine erste Hörprobe gibts mit dem Musikvideo zum Song 'God Given' auch schon, das ihr hier ansehen könnt:
Gitarrist Bernemann gab auf Facebook ein Statement zur neuen Band:
"Hallo Leute, endlich ist es soweit, ein langes arbeitsreiches Jahr liegt hinter uns und wir freuen uns sehr euch unsere neue Band "BONDED" vorstellen zu können. Nach dem Split aufzuhören war nie eine Option für uns und die zahlreichen Zuschriften haben uns noch mehr motiviert jetzt nochmal alles rauszuhauen. Euer Zuspruch war überwältigend, vielen Dank!
Wir standen in der Vergangenheit stets 100%ig zur Band und zu den Leuten die uns begleitet haben, daher haben wir, getreu dem Bandnamen, mit Marc Hauschild (b.) und Chris Tsitsis (g., DESTROY THEM, Ex-SUICIDAL ANGELS) zwei großartige Musiker und Freunde verpflichtet, denen wir sehr "verbunden" sind. Als langjährige Mitglieder unserer Crew haben wir bereits viel mit ihnen zusammen erlebt und wissen, dass die Chemie stimmt, und dass wir uns auf sie verlassen können. Marc hat uns z.B. ganze 13 Jahre als Techniker unterstützt und verließ unsere ex Band ebenfalls Anfang letzten Jahres. Auch Chris gehörte seit einigen Jahren zur "Reisegruppe" und bringt jede Menge Energie und frischen Wind zu BONDED.
Den Job am Mikro hat Ingo Bajonczak (ASSASSIN; Ex-LORD OF GIANT, -NEW DAMAGE) übernommen. Ingo hat uns durch seinen ausdrucksstarken und abwechslungsreichen Gesang von Anfang an total überzeugt und ist sowohl menschlich als auch musikalisch eine absolute Bereicherung für uns. Im Dezember letzten Jahres haben wir zusammen mit Produzent "Corny" Rambadt (Sodom/Decision Day) ein 4-Track Demo aufgenommen. Wir freuen uns tierisch darauf bald wieder unterwegs zu sein. Na klar werden wir unseren musikalischen Wurzeln treu bleiben, lasst euch überraschen..."