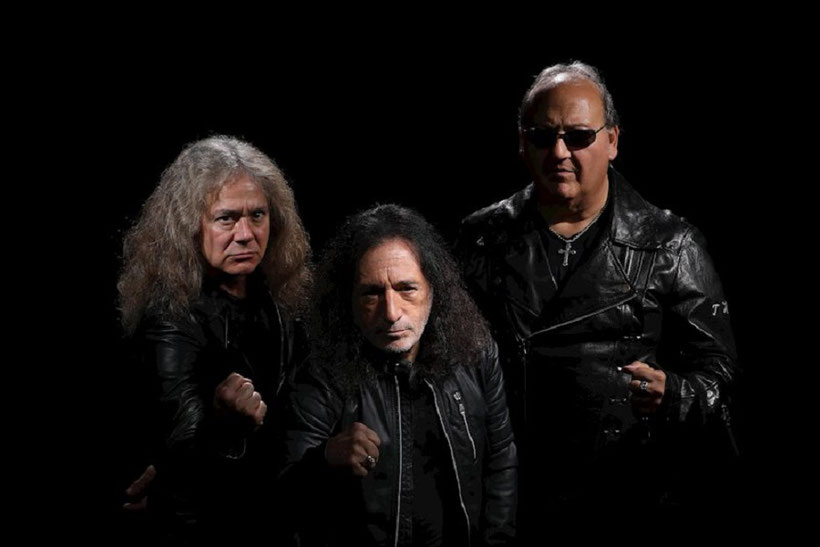 Im Frühjahr 1980 gründete sich die amerikanische Band um Sänger/Gitarrist David 'Rock' Feinstein, einem Cousin des unvergessenen Ronnie James Dio und Ex- Mitglied der gemeinsamen Band ELF. Nach sechs Jahren und fünf Alben lösten sie sich 1986 leider schon wieder auf und verschwanden für mehr als 20 Jahre in der Versenkung. Mit der exzellenten Comeback-Scheibe »Vengeance« stieg die Gruppe 2011 wie Phönix aus der Asche wieder auf und startete den zweiten Teil ihrer Karriere.
Ihr 82er Album »Wild Dogs« und das 1984 erschienene »Let them Eat Metal« sind absolute Kult Alben und gehören in jede anständige Plattensammlung. Unten kann man sich die beiden Alben in voller Länge anhören. Am 7. Juni erscheint nun endlich ein neues Album mit dem Ttel »Brotherhood Of Metal«, welches in der gleichen Besetzung des Kult-Albums »Wild Dogs« mit David "Rock" Feinstein (Guitar/Vocals), Garry Bordonaro (Bass) und Carl Canedy (Drums) eingespielt wurde. 11 neue Songs gibt es inkl. einem Bonus-Track auf der Vinyl-Scheibe. Besonders der siebenminütige Titeltrack 'Brotherhood Of Metal' knallt ordentlich durch die Boxen und ist eine wahre Hymne, die auch gut auf ein MANOWAR-Album gepasst hätte.
Das Cover-Artwork stammt vom belgischen Künstler Eric Philippe, der aus schon das Cover für das Comeback-Album »Vengeance« machte.
Erhältlich als: 
CD DigiPak - 2 LP (incl. Bonus Track), Gatefold, 180g rotes Vinyl, bedruckte Innentaschen + CD (in Stecktasche)
Tracklist: »Brotherhood Of Metal«
01. Brotherhood Of Metal 7:28
02. Everybody's Rockin' 3:57
03. Smoke On The Horizon 4:47
04. Louder Than Loud 4:15
10. The Devil Made Me Do It 3:54
12. Crank It Up (35 Years) 3:35