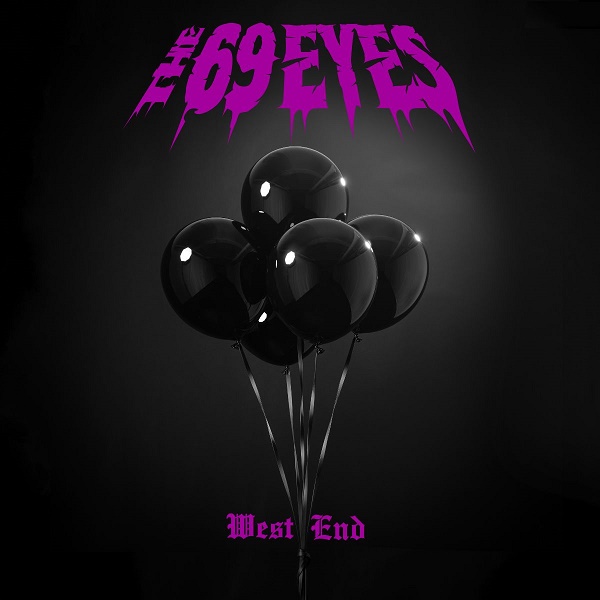 1989 in Finnland gegründet, haben die Dark Rocker von THE 69 EYES das Genre des Goth'n'Roll geprägt wie keine andere Band. Mit einer Reihe von Platin-Topseller-Alben im Repertoire wie »Blessed Be« und »Paris Kills«, die um die Jahrtausendwende erschienen sind, hat das Quintett nicht nur Platz 1 der Single- und Album-Charts ihres Heimatlandes Finnland erobert, sondern nebenbei auch noch die ganze Welt in ihren sündhaften Kosmos von Liebe, Tod und endloser Melancholie gestürzt und dabei die meisten anderen Bands überlebt, die im Goth-Hype der 2000er entstanden sind. Mit der Weiterentwicklung ihres Sounds in Richtung Sleaze Rock auf »Devils« (2004) und »Angels« (2007), der majestätisch-dunklen Stimme und den Elvis-Anspielungen in den Dance-Moves von Sänger Jyrki 69 hat sich die Band weltweit eine große Fanbasis aufgebaut und durch unablässige Touren in Europa, Amerika, Asien und Australien weiter gefestigt
Dieses Jahr feiert die Band ihr dreißigjähriges Jubiläum, aber denkt nicht einmal dran, das Tempo runterzufahren, sondern kündigt nun ihr neues Studiowerk »West End« an, das am Freitag, den 13. September, über Nuclear Blast erscheint. Dieser 12. Longplayer kommt mit einigen hochkarätigen Gastsängern daher, wie Cradle Of Filths Dani Filth, Wednesday 13 und Beastö Blancös Calico Cooper, und besteht aus elf Up-Tempo Rockhymnen, voller Härte, dunkler Memento-Mori-Momente und schwarzem Humor, mit dem die Band in den Ruinen unserer Welt tanzt:
Als ersten Vorgeschmack auf das neue Album präsentieren THE 69 EYES heute das von dem Kalifornier Regisseur Vicente Cordero (3 Teeth, "Room 37- The Mysterious Death of Johnny Thunders") gefilmte Musikvideo zu ihrer neuen Single '27 & Done'. Neben der Performance der Band zeigt der Clip Ausschnitte aus dem Horrofilm 'The 27 Club' (Cleopatra Entertainment), der am 13.Juni diesen Jahres erscheint.
"Der Track beschäftigt sich mit der dunklen Seite von Hollywood und der Idee, das jeder dort hingeht, um seine Träume zu verwirklichen, aber selten jemand von ihnen Erfolg hat", erklärt Jyrki 69. "Das ist eine Tatsache, die man dort an jeder Ecke beobachten kann. Es ist ein Ort, der einen verzweifeln lässt und ich wollte diese düsteren Vibes in dem Song einfangen. Auf der anderen Seite feiert der Song aber auch das Leben – wir sollten uns glücklich schätzen, hier zu sein, jeder ist eine Legende und man sollte sich bewusst machen, dass wir lieber genießen sollten, was wir tun, anstatt uns zu sorgen, was andere darüber denken."
THE 69 EYES - West End Tour 2019
02.11. D Leipzig - Moritzbastei
06.11. D Köln - Essigfabrik
07.11. D Stuttgart - Wizemann Club
08.11. D München - Backstage (Halle)
09.11. CZ Prag - Meat Factory
11.11. PL Wroclaw - Stary Klasztor
12.11. HU Budapest - Barba Negra
13.11. SK Bratislava - Atelier Babylon
16.11. IT Parma - Campus Music Industry
19.11. D Trier - Mergener Hof
20.11. F Paris - Backstage by the Mill
21.11. UK London - The Garage
23.11. D Oberhausen - Kulttempel
24.11. D Frankfurt - Zoom
Außerdem spielt die Band die folgenden Shows in Tschechien und ihrer Heimat Finnland:
25.05. FIN Lahti - Club Chicago
02.06. CZ Pilsen - Metalfest Open Air
08.06. FIN Jämsä - HD International Rally
09.06. FIN Hyvinkää - Rockfest
18. - 20.07. FIN Laukaa - John Smith Rock Festival
27.07. FIN Kuopio - Kuopiorock
03.08. FIN Karvia - Karvia-päivät
30.08. FIN Helsinki - Nosturi