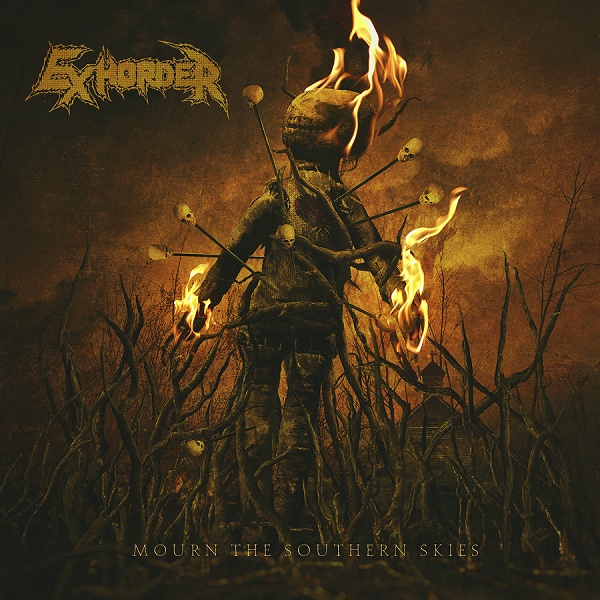 Satte 27 Jahre mussten EXHORDER-Fans auf ein neues Album warten, nun hat das Warten endlich ein Ende. Die Thrash-Metaller aus New Orleans veröffentlichen am 27. September ihr neues Studioalbum »Mourn The Southern Skies« über Nuclear Blast Records. Die erste Single 'My Time' und das dazugehörige Musikvideo wurden nun veröffentlicht.
Der Gründungsgitarrist von EXHORDER, Vinnie La Bella, sagt über ihre Rückkehr: "Man kann jahrelang, sogar jahrzehntelang (wie in unserem Fall) überlegen und planen. Man kann hart arbeiten, sich alles zurecht schleifen und den Vierkantstift in das runde Loch schlagen. Aber manchmal muss man auch in den Kalender schauen und sich von der Zeit sagen lassen: Es ist soweit. EXHORDER hat eine eigene Seele. Und es stieß mich immer wieder in die Rippen, als wolle es sagen: "Hey Arschloch, es ist noch nicht vorbei!" Kyle und ich hatten als Teenager einen Traum. Und so klischeehaft es auch scheinen mag, wir sind nie aufgewacht. EXHORDER hat sich immer in und aus unserem Leben eingeschlichen, das war kein Hexenwerk. Es war nur eine einfache Frage der Zeit, bis die richtigen Leute, die richtigen Songs, der richtige Manager / das richtige Label endlich zu uns stießen. Nun ist es fast 35 Jahre her, dass wir den Namen EXHORDER zum ersten Mal ausgesprochen haben. 27 Jahre seit unserem letzten Album und eine ganze Menge Ruhe dazwischen. Warum haben wir beschlossen zurückzukehren? Warum mit 50 Jahren wieder anfangen, anstatt in Rente zu gehen? Ganz einfach: Weil es Zeit war!"
EXHORDERs langwährendes Erbe begann Mitte der 80er, als sie den Sound des Louisiana-Thrash/Groove Metal maßgeblich prägten. Das Original-Line-up bestand nur relativ kurze Zeit - knapp ein Jahrzehnt, in dem es zwei hochgelobte Klassiker hervorbrachte - doch sein Einfluss auf das Metal-Genre ist an einer kompletten Generation an darauffolgenden Bands klar erkennbar. EXHORDER lösten sich Mitte der 90er auf, fanden aber 2011 wieder zusammen. Jetzt ist die Truppe endgültig zurückgekehrt, um den Thron des NOLA-Metal mit ihrem neuen, mit Spannung erwarteten Album und mit einem Allstar-Line-up, das aus Kyle Thomas (Gründungsmitglied/Gesang; TROUBLE, HEAVY AS TEXAS), Vinnie La Bella (Gründungsmitglied/Gitarre), Marzi Montazeri (Gitarre; ex-SUPERJOINT RITUAL, ex-PHIL ANSELMO & THE ILLEGALS, HEAVY AS TEXAS), Jason VieBrooks (seit 2011 am Bass; HEATHEN, GRIP INC.) und Sasha Horn (Schlagzeug; FORBIDDEN) besteht, erneut zu besteigen.
Live:
04.10. D Lichtenfels - Way Of Darkness Festival
07.10. UK London - The Underworld Camden
08.10. UK Manchester - Rebellion
10.10. IRL Dublin - Voodoo Lounge