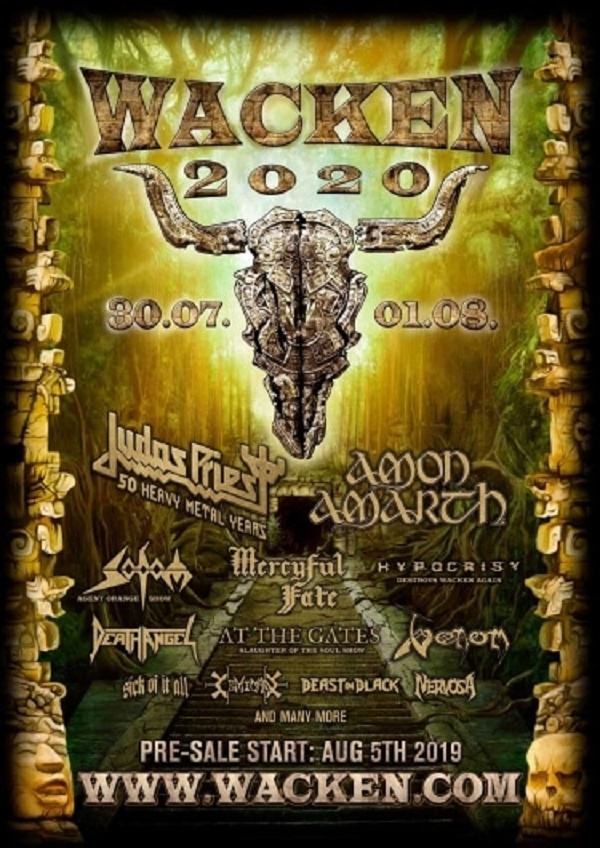 Kaum ist das Wacken Open Air 2019 Geschichte und die Tonnen Abfall werden noch weggeräumt, kündigen die Veranstalter die ersten bestätigten Bands fürs nächste Jahr an. JUDAS PRIEST feiern ihr 50-jähriges Jubiläum und sind noch immer nicht tourmüde von iher "Firepower"-Welttour. Am 16. März 2020 kommen sie zudem ins Hallenstadion, wo das abgesagte Konzert mit OZZY nachgeholt wird.
Ebenfalls bestätigt sind die Schweden von AMON AMARTH. MERCYFUL FATE werden wohl für viele Alt-Metaller das Highlight sein. Erst kürzlich kündigte King Diamond die ersten Shows nach x Jahren an. Dabei werden sie ausschliesslich Songs von der ersten EP und den beiden ersten Kultalben spielen.
Desweiteren sind AT THE GATES, SODOM, VENOM, HYPOCRISY, DEATH ANGEL, SICK OF IT ALL, BEAST IN BLACK, NERVOSA und CEMIAN mit dabei. Der Vorverkauf ist soeben gestartet, und es wird nicht lange gehen, bis auch Wacken 2020 ausverkauft sein wird.