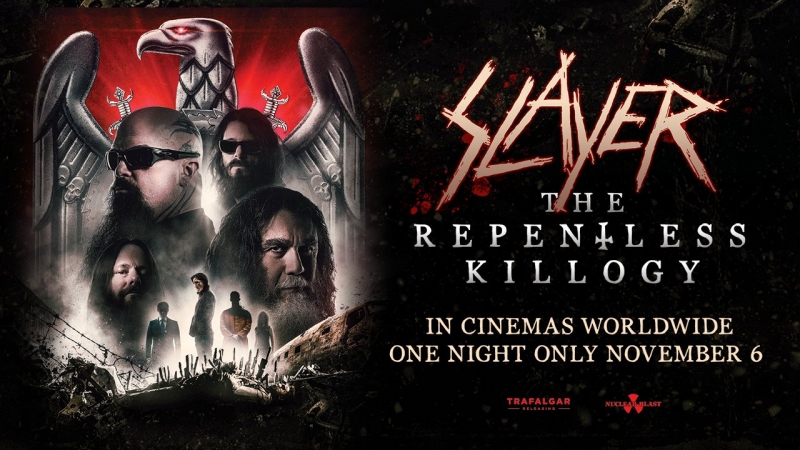 SLAYER, Nuclear Blast Records und Prime Zero Productions können heute voller Stolz bekanntgeben, dass der kommende Kurz-/Konzertfilm namens "Slayer: The Repentless Killogy" am 6. November weltweit einmalig in Kinos zu sehen sein wird. In diesem Rahmen wird das Werk in über 1.500 Kinos auf der ganzen Welt präsentiert werden. Tickets für dieses einzigartige Event werden ab dem 9. Oktober unter http://www.slayer.film erhältlich sein.
Nach der globalen Kinopremiere wird der Film ab dem 08. November digital und auf Blu-ray erhältlich sein. Außerdem wird der Soundtrack des Konzerts sowohl als Doppel-LP als auch auf Doppel-CD erscheinen.
Rache, Mord, Blutvergießen und Vergeltung: Die Idee für den "Repentless Killogy"-Film stammt von Regisseur BJ McDonnell, der bereits für die drei brutalen Musikvideos zu SLAYERs letztem Studioalbum "Repentless" (2015) - 'You Against You', 'Repentless' und 'Pride In Prejudice' - verantwortlich gewesen war.
"Als wir die drei ursprünglichen Videos gedreht haben", erzählt McDonnell, "hatten wir bereits die Idee, die Geschichte von SLAYER und Wyatt eines Tages fortzusetzen. Dies ist nun aber die letzte Platte und Welttournee der Band, weshalb die aus den drei Videos und dem »Repentless«-Livekonzert im Forum bestehende Geschichte das perfekte Ende dieser monstermäßigen Truppe darstellt."
Kompromisslos und unumgänglich: Der erste Teil von "Slayer: The Repentless Killogy" beginnt mit dem energiegeladenen Kurzfilm, der SLAYERs Musik und die grausige Geschichte, die sie erzählen wollten, vereint. Mit der Musikvideo-Trilogie als Handlungsstrang startend, wird die Hauptfigur Wyatt vorgestellt. Er ist ein ehemaliger Neonazi, der in Verbindung mit der sogenannten 'Bruderschaft der Hand' steht, die nach ihren begangenen Morden immer einen blutigen Handabdruck am Tatort zurückließ.
Unter der Regie von Wayne Isham, der u.a. auch schon mit METALLICA, den FOO FIGHTERS zusammengearbeitet hat, aufgenommen, besteht der zweite Teil von "Slayer: The Repentless Killogy" aus SLAYERs komplettem Set, das am 05. August 2017 im Forum Los Angeles mitgefilmt wurde. Dieses zeigt auch ihre spektakuläre Pyroshow, während derer SLAYER Granaten wie 'South Of Heaven', 'War Ensemble', 'Mandatory Suicide', 'Dead Skin Mask', 'Raining Blood' und 'Angel Of Death' in die Arena feuern.
"The Repentless Killogy" wartet mit vielen Schauspielern auf, die bereits in der ursprünglichen Videoserie zu sehen gewesen waren: Jason Trost ("Beats Of Rage", "Hatchet III") als Wyatt, Danny Trejo ("Machete", "From Dusk Til Dawn"), Richard Speight ("Band Of Brothers", "Supernatural"), Derek Mears ("Agents Of S.H.I.E.L.D."), Jessica Pimentel ("Orange Is The New Black"), Tyler Mane ("X-Men", "Halloween II"), Bill Moseley ("The Devil's Rejects", "The Texas Chainsaw Massacre 2"), Caroline Williams ("The Texas Chainsaw Massacre 2", "Sharknado 4") und Sean Whalen ("Twister", "The People Under The Stairs").