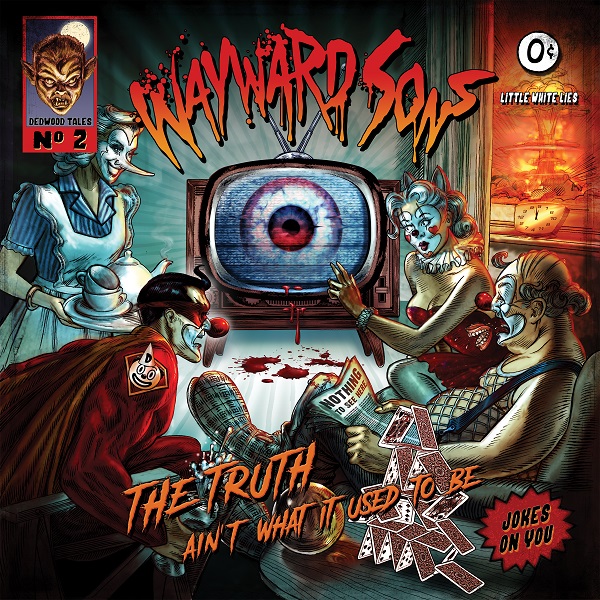 Am kommenden Freitag kommt das zweite WAYWARD SONS-Album "The Truth Ain't What Is Used To Be" in die Läden, welches über Frontiers Musik erscheint. Die Band um Bandleader Toby Jepson, der Anfang der 90er mit LITLE ANGELS einige Erfolge feierte, Bassist Nic Wastell (CHROME MOLLY), Drummer Phil Martini (ex-THE QUIREBOYS, Joe Elliot`s Down And Outz), Gitarrist Sam Wood sowie Keyboarder Dave Kemp (ex-LITTLE ANGELS Touring-Band) wurde 2018 bei den  Planet-Rock-Awards 2018 mit dem Titel ′Best New Band′ ausgezeichnet.

Zum Reinhören hat die Band bereits drei Songs als zusammenhängende Serie als Musikvideos veröffentlicht, welche ihr unten ansehen/-hören könnt. Der vierte Teil mit dem Titeltrack 'The Truth Ain't What It Used To Be' wird am Freitag freigeschaltet. Live spielen WAYWARD SONS am 17. November mit BLACK STAR RIDERS im Dynamo in Zürich.
Tracklist: "The Truth Ain't What Is Used To bBe"
01. Any Other Way
02. Black As Sin
03. Joke's On You
04. Little White Lies
05. Feel Good Hit
06. Fade Away
07. Have It Your Own Way
08. Long Line Of Pretenders
09. (If Only) God Was Real
10. The Truth Ain't What It Used To Be
11. Punchline
12. Us Against The World