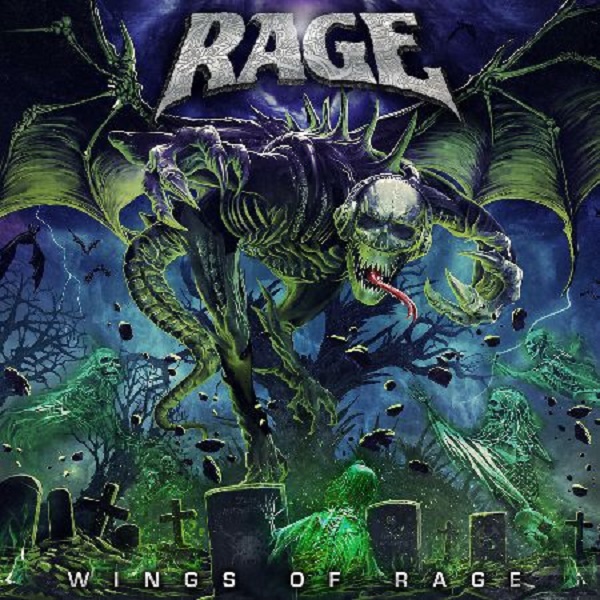 Das neue RAGE-Album "Wings Of Rage" kommt am 10. Januar über Steamhammer/SPV in die Läden, bereits heute gibts ein Musikvideo zum Song 'Let Them Rest In Peace'. Gedreht haben es Peavy Wagner (v./b.), Vassilios "Lucky" Maniatopoulos (dr.) und Marcos Rodriguez (g.) in einer alten Papierfabrik. Wie üblich gibts 2020 natürlich auch eine Tour dazu, einige Daten sind schon bekannt, mehr werden noch folgen.
Format:               
- CD Digipak
- 2LP + 1 bonus track, Gatefold, 140g black vinyl, 2 inserts  
- Deluxe Box Set (incl. CD Digipak, 2 LP Gatefold, Powerbank, Towel, Sticker, handsigned Photocard, A1 Poster, Button) Limited to 1.000 units Europe-wide
Tracklist: "Wings Of Rage"
01. True
02. Let Them Rest in Peace
03. Chasing The Twilight Zone
04. Tomorrow
05. Wings Of Rage
06. Shadow Over Deadland (The Twilight Transition)
07. A Nameless Grave
08. Don't Let Me Down
09. Shine A Light
10. HTTS 2.0
11. Blame It on The Truth
12. For Those Who Wish To Die
Peavy Wagner (vocals, bass)
Marcos Rodriguez (guitars)
Vassilios Maniatopoulos (drums)
Tourdates 2019/2020:
2019
07.12. DE-Balingen - Crazy X-mas
28.12. DE-Annweiler - Trifels Rock Festival
29.12. DE-Andernach - Latscho Festival (JUZ Live Club)
2020
25.01. DE-Wolfsburg - Break Your Neck Festival
05.02. DE-Mannheim - MS Connexion Complex
06.02. DE-Hamburg - tba
07.02. DE-Siegburg - Kubana
08.02. UK-London - The Underworld
09.02. FR-Colmar - Le Grillen
11.02. ES-Pamplona - Totem
12.02. ES-Barcelona - Boveda
13.02. FR-Lyon - CCO Villeurbanne
14.02. IT-Milano - Legend Club
15.02. DE-Memmingen - Kaminwerk
16.02. DE-Nürnberg - Hirsch
18.02. CH-Pratteln - Z7
19.02. AT-Vienna - Szene
20.02. SVK-Kosice -Colosseum
21.02. SVK-Zvolen - Dom Kultury ZSR
22.02. CZ-Prague - Nová Chmeln