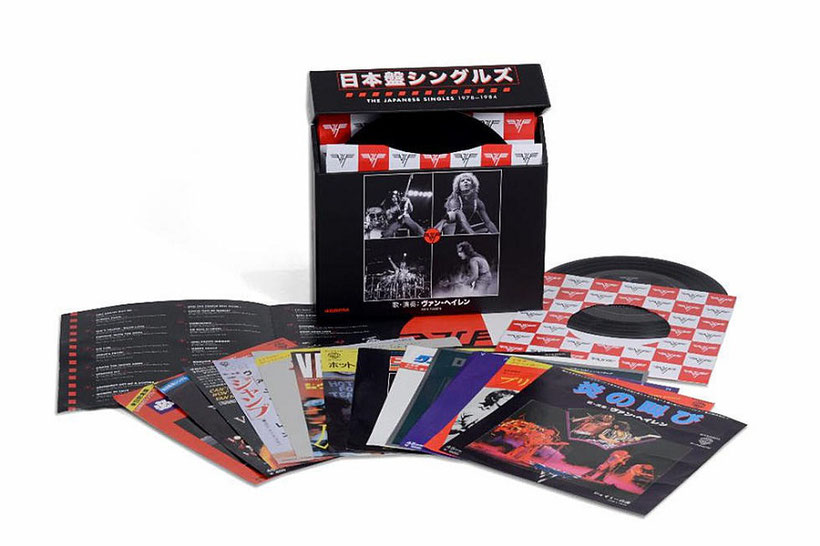 VAN HALEN-Vinyl-Fans dürfen sich freuen: Am 1. November kommt die Box "The Japanese Singles 1978-1984" als Vinyl-Neuauflage in die Läden. Es wird eine schwarze Vinylversion sowie eine auf 750 Exemplare limitierte auf rotem Vinyl geben, die bereits hier vorbestellt werden kann.
Die 7-Zoll-Vinyl-Singles zeigen jeweils das orginal Cover-Artwork und werden in einer Klappbox erscheinen. Einen Trailer dazu gibts hier:
Tracklist: "The Japanese Singles 1978-1984"
Disc One
A. You Really Got Me
B. Atomic Punk
Disc Two
A. Ain't Talkin' 'Bout Love
B. Runnin' With The Devil
Disc Three
A. On Fire
B. Jamie's Cryin'
Disc Four
A. Dance The Night Away
B. Spanish Fly
Disc Five
A. Somebody Get Me Doctor
B. Women In Love
Disc Six
A. And The Cradle Will Rock
B. Could This Be Magic?
Disc Seven
A. Unchained
B. So This Is Love?
Disc Eight
A. (Oh) Pretty Woman
B. Happy Trails
Disc Nine
A. Dancing In The Street
B. The Full Bug
Disc Ten
A. Jump
B. House Of Pain
Disc Eleven
A. I'll Wait
B. Girl Gone Bad
Disc Twelve
A. Panama
B. Drop Dead Legs
Disc Thirteen
A. Hot For Teacher
B. Little Dreamer