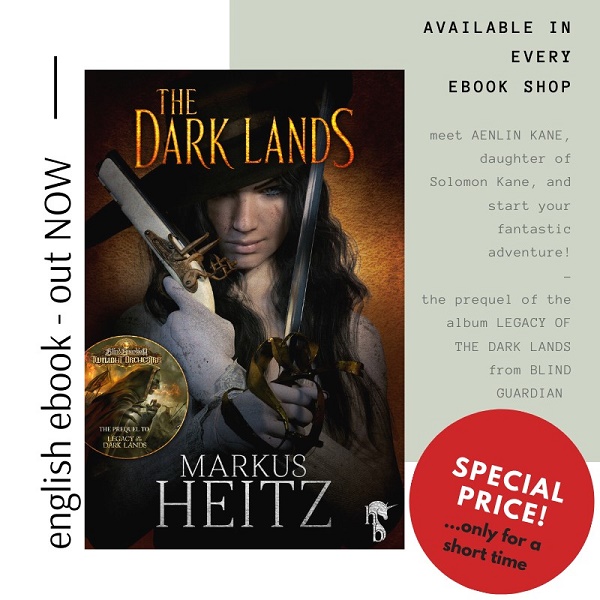 Seht! Die Dunklen Lande sind hier!
Für Englisch-sprachige Fans sogar als englisches E-Book - Hell, Hell, Hooray.
Eine Abenteurerin, dunkle Mächte, Schießpulver, Stahl und Magie: Aenlin Kane sucht das Erbe ihres Vaters Solomon Kane in Den Dunklen Landen!
1629. Der Dreißigjährige Krieg hat Europa mit seinen Konflikten fest im Griff und wütet besonders gnadenlos in Deutschland. Die junge Abenteurerin Aenlin Kane reist in die neutral gebliebene Stadt Hamburg, um das Erbe ihres berühmten Vaters Solomon Kane zu entdecken. Gemeinsam mit ihrer Freundin Tahmina, einer persischen Mystikerin, zieht es sie in die Unruhen des Krieges hinein.
Die beiden nehmen eine bedeutende Mission der West Indian Company an: Eine kleine Truppe soll sich hinter die feindlichen Linien kämpfen, um zur süddeutschen Stadt Bamberg zu gelangen, wo im Zuge grausamer Hexenprozesse bereits die Scheiterhaufen brennen – aber die Unternehmung nimmt eine unerwartete Wendung. Das kann kein Zufall sein!
Aenlin und Tahmina wissen um das Böse und die Dämonen, die auf der Welt umherziehen und die Tumulte des Krieges zu ihrem Vorteil nutzen. Schon bald wird sich zeigen, dass diese nicht nur einfach eine weitere Mission der Company ist. Denn Nicolas, der Anführer der Truppe hat ein düsteres Geheimnis - lest mehr darüber in "Legacy Of The Dark Lands"!
Am 08. November erscheint das dazugehörige Album "Legacy Of The Dark Lands" der Band BLIND GUARDIAN und BLIND GUARDIAN AND THE TWILIGHT ORCHESTRA über Nuclear Blast.