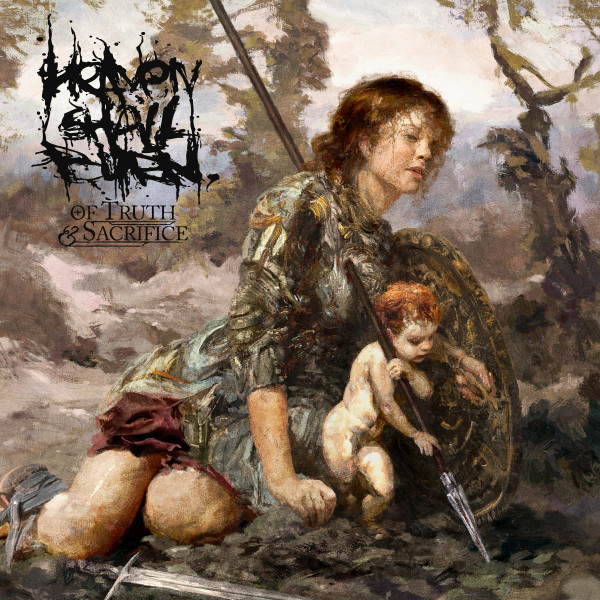 HEAVEN SHALL BURN haben für März 2020 ein neues Album mit dem Titel "Of Truth And Sacrifice" angekündigt. Nach Gitarrist Maik Weichert soll es sogar ein Doppelalbum geben: "Wir beschlossen, dass ein Album nicht gut genug sei, und wir wollten als Statement ein Doppelalbum aufnehmen. Unser Ziel war ein absolutes Kunstwerk, in das die Leute eintauchen können, etwas, das sehr viel Raum für Überraschungen und Experimente lässt. Es war nur fair, den Fans doppelt so viel zu geben, nachdem wir sie so lang haben warten lassen."
Thematisch soll es in zwei Teile aufgegliedert sein: "Of Truth" und "Of Sacrifice". "Der Titel beschäftigt sich mit der Vorstellung der Wahrheit und der Frage, was für Opfer man dafür zu bringen bereit ist. Es ist ein Titel, der sich auf zahlreiche aktuelle Entwicklungen bezieht: die Blindheit der Menschen im täglichen Leben und den Unwillen, Opfer zu bringen, um Veränderungen herbeizuführen."
Tracklist: "Of Truth And Sacrifice"
CD1
01. March Of Retribution
02. Thoughts And Prayers
03. Eradicate
04. Protector
05. Übermacht
06. My Heart And The Ocean
07. Expatriate
08. What War Means
09. Terminate The Unconcern
10. The Ashes Of My Enemies
CD2
01. Children Of A Lesser God
02. La Résistance
03. The Sorrows Of Victory
04. Stateless
05. Tirpitz
06. Truther
07. Critical Mass
08. Eagles Among Vultures
09. Weakness Leaving My Heart
Live:
05.06.-07.06.2020 (DE) Nürnberg – Rock im Park
05.06.-07.06.2020 (DE) Nürburg – Rock am Ring
11.06.-13.06.20 (CH) Interlaken – Greenfield
10.06.-13.06.20 (AT) Nickelsdorf – Novarock
18.06.-21.06.20 (BE) Dessel – Graspop
19.06.-21.06.20 (FR) Clisson – Hellfest
26.-28.06.20 (DE) Gräfenhainichen – Full Force
02.-04.07.20 (ES) Viveiro – Resurrection
09.-12.07.20 (CZ) Vizovice – Masters of Rock
09.-11.07.20 (SE) Gävle – Gefle Metal Festival
17.-18.07.20 (NL) Eindhoven – Dynamo Metalfest