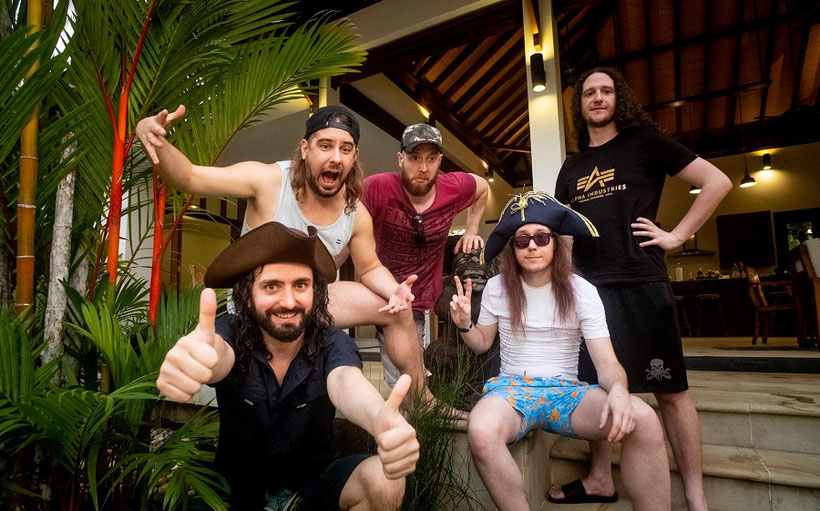 Photo Credit: Elliot Vernon
Die Piraten-Metaller aus Schottland kündigen mit "Curse Of The Crystal Coconut" ein neues Studioalbum für den Sommer an. Momentan befinden sie sich im Studio, um das Ganze auf Band zu verewigen und hinterlassen eine Nachricht:
"Oh wow, Menschen des Planeten Erde! Wir freuen und sehr, verkünden zu können, dass wir heute die Krabi Road Studios in Thailand geentert haben, um unser sechstes ALESTORM-Album aufzunehmen, das "Curse Of The Crystal Coconut" heißen wird! Wir haben diesen Titel möglicherweise von Donkey Kong geklaut, oder auch nicht. Wie auch immer, wir werden die nächsten drei Wochen hier sein und um die 13 Songs aufnehmen, von denen einige absolut furchtbar sein werden und daher nie das Licht der Welt erblicken. Die Songs, die irgendwie ganz gut gelingen, werden via Napalm Records veröffentlicht, irgendwann zu Beginn des Sommers! Viele weitere Updates kommen schon bald, bleibt dran, und wir verraten euch alles weitere."
21.02.20 ES - Madrid / La Rivera
20.03.20 AU - Melbourne / Download Festival
21.03.20 AU - Sydney / Download Festival
04.06.20 SE - Solvesborg / Sweden Rock
12.06.20 CH - Interlaken / Greenfield
14.06.20 US - Donington Park / Download Festival
19.06.20 BE - Dessel / Graspop Metal Meeting
20.06.20 FR - Clisson / Hellfest
03.07.20 ES - Barcelona / Rock Fest
04.07.20 IT - Villafranca di Verona / Rock The Castle
09.07.20 CZ - Vizovice / Masters of Rock
31.07.20 UA - Ternopil / Faine Misto
06.08.20 HR - Pula / Headbanger's Holiday
08.08.20 NL - Leeuwarden / Into The Grave
14.08.20 DE - Dinkelsbühl / Summer Breeze
21.08.20 DE - Haddeby / Baltic Open Air
05.09.20 DE - Selb / Festival Medieval