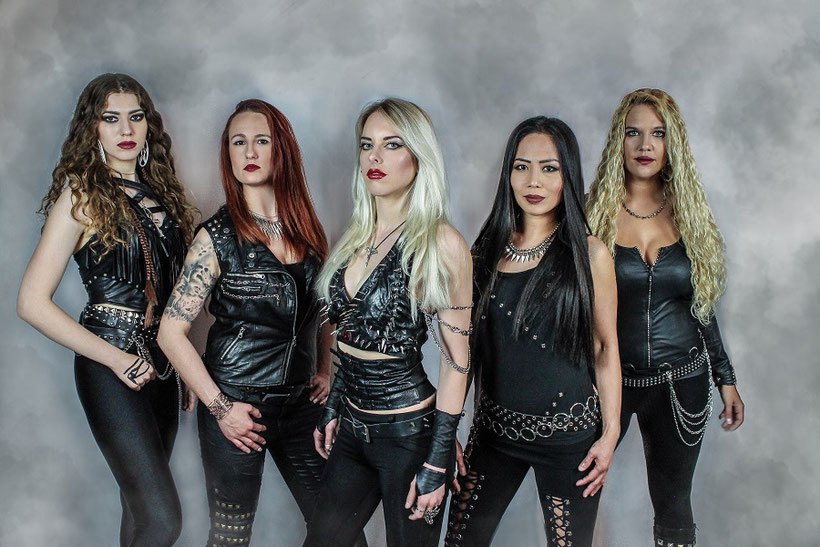 Die Schweizer Metallerinnen von BURNING WITCHES haben heute den ersten Teil einer Video-Interviewserie mit dem Titel "The Devil´s Archives" veröffentlicht. Darin verraten sie einige Details zum neuen Album "Dance With The Devil", das am 6. März über Nuclear Blast erscheinen wird.
Im ersten Teil der Interviewreihe geht es natürlich um das neue Line Up der Band. Vergangenen Juni gaben die Girls einen Wechsel hinterm Mikro bekannt. Mit der Niederländerin Laura Guldemond (Shadowrise) stieß eine neue Sängerin zu den Witches. Außerdem wird der offizielle Albumtrailer vorgestellt.
Nach dem Release des offiziellen Videos zum neuen Song 'Sea Of Lies' gibt "The Devil´s Archives" damit einen noch detaillierteren Einblick ins kommende Werk.
"Habt Spaß mit unseren Devil´s Archives, in denen alle Bandmitglieder zu Wort kommen werden", so die Musikerinnen. "Weil wir immer noch an der Perfektionierung unserer Englischkünste feilen, hoffen wir, dass euch unser Akzent-Mischmasch nichts ausmacht. Wir nennen unseren Mix an verschiedenen Akzenten gerne "Hexengebräu". In jedem Fall gewährt euch unser kleiner Small Talk einen guten Einblick in unsere Arbeitsprozesse, unser Sonwriting und unsere persönlichen Ansichten."