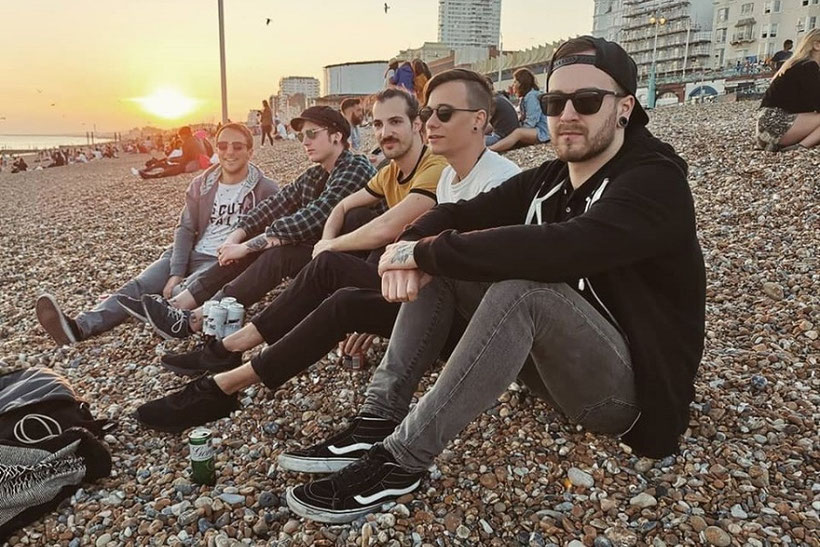 NO KINGS NO SLAVES sind eine fünfköpfige Melodic-Metalcore-/Hardcore-Band aus Luzern. Nach einer ersten EP, die sie bei Tommy Vetterli (CORONER/Ex-KREATOR) aufnahmen und vielen gespielten Shows in der Schweiz (u.a. mit Modern Life Is War, Crossfaith und Cancerbats) und Deutschland, veröffentlichen die 5 Jungs, die sich schon aus der Primarschule kennen, Ende Februar nun ihr Debüt-Album "New Lease of Life". Aufgenommen und gemixt wurde das Debütalbum von Manuel Wiget in mehrwöchigen Sessions im New Sound Studio, gemastered von Troy Glessner (August Burns Red, Disturbed, Pentagram u.v.m).
Lyrisch behandelt das neue Album Themen wie toxische Beziehungen, Vergänglichkeit und soziale Missstände. Es befasst sich stark mit Emotionen wie Wut, Trauer, Unsicherheit, Angst, aber auch Aufbruchstimmung und Lebensfreude. Die Plattentaufe findet am 13. März im Treibhaus Luzern statt, zuvor findet noch am 28. Februar eine
Prelistening Party in der Metzgerhalle ebenfalls in Luzern statt. Erhältlich ist das Album ab dem 29. Februar.
Eine Kostprobe bietet der vor wenigen Tagen als Single veröffentlichte Titeltrack "New Lease of Life" hier:
Sänger und Writer Julian Thalmann über das Album: "In den Texten versuche ich auf Themen und Gedankengänge einzugehen, die mich täglich beschäftigen und die auch unzählige Fragen aufwerfen. Dabei will ich nicht unbedingt nur das Verhalten unserer Gesellschaft, sondern mein eigenes und das meines Umfelds hinterfragen. Obwohl dabei viele Emotionen hervorgebracht werden, die einem Verunsichern und fragend zurücklassen, will ich auf dem Album auch zeigen, dass man Dinge ändern kann und ein Neustart nach einem Rückschlag Kraft geben kann. Hier entsteht auch die Verbindung zum Albumcover und zum Titel des Albums."
Das Album kann ab dem Releasetag physisch als CD über ihre Bandcamp-Seite und über die Homepage "www.nokingsnoslaves.ch", die zum Release fertig gestellt wird, bestellt werden. Digital kann man das Album ebenfalls auf Bandcamp kaufen, oder über alle gängigen Streamingseiten wie Spotify, Apple Music etc. streamen.
Tracklist: "New Lease of Life"