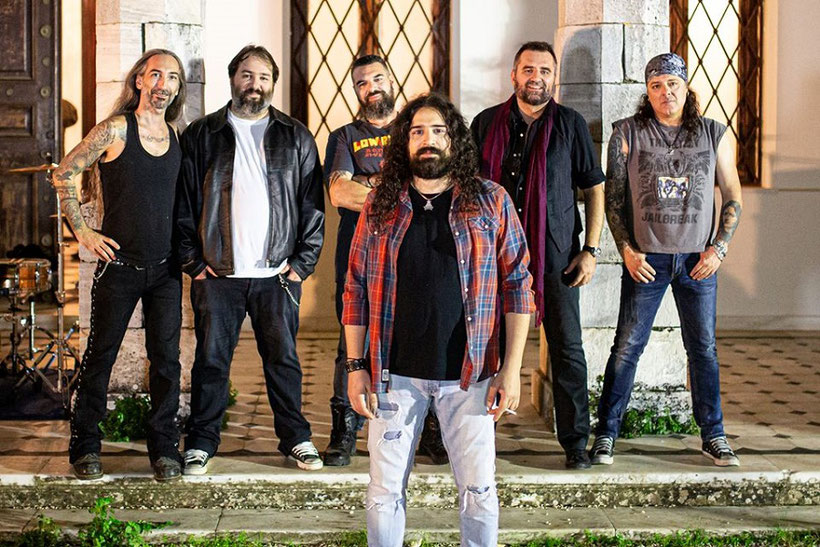 BADD KHARMA kommen aus der griechischen Hauptstadt Athen und bestehen seit 2013. Nach einigen Tiefen und Höhen haben sie es endlich geschafft, ihr Debütalbum "On Fire" fertig zu stellen, das am 13. März 2020 über ROAR! Rock Of Angels Records in den Handel kommt. Wie alle Bands haben auch die griechischen Heavy-Rocker ihre Vorbilder, so huldigen sie mit ihrer neuen Single "Still Our Man" dem 2012 verstorbenen RIOT-Gitarristen Mark Reale. RIOT haben sich nach dessen Tod und dem Ausstieg ihres Sängers Tony Moore ja bekanntlich in RIOT V umbenannt und gehören sicher zu den Bands, die es schon lange verdient hätten, in der oberen Liga zu spielen. Doch auch im Metal regiert öfter der Kommerz. Leider.
Doch zurück zu BADD KHARMA, ihr Debütalbum kommt mit ganzen 13 Songs daher, und die beiden bereits veröffentlichten Singles "Still Our Man" und "Never Surrender" sind deutlich über dem Durchschnitt eines Debütalbums. Der Mix und das Mastering wurden von Christian Schmid und R.D. Liapakis in den Prophecy Studios in Deutschland gemacht, das Cover-Artwork sowie das Bandlogo stammen von George Zacharoglou.
Hört euch die zwei Songs hier an und überzeugt euch selbst von diesem grandiosen Debütalbum:
Die Band dazu: "Jeder Musiker hat seine Helden, seine Inspiration. Unserer Meinung nach war Riot eine der unterschätztesten Bands in der Geschichte unserer Musik. "Still Our Man" ist eine Reise durch RIOTs Musikgeschichte, die dem verstorbenen Mark Reale gewidmet ist, Riots Leadgitarristen und Mastermind. Du bist immer noch unser Mann, Mark!"
Tracklist: "On Fire"
01.  Never Surrender
02.  Land Of The Free
03.  Devil In You
04.  Still Our Man
05.  Rise Or Fall
06.  On The Edge
07.  Light In The Dark
08.  Break Free
09.  Fools Parade
10.  Burning Heart
11.  Lost In Her Eyes
12.  Unbroken
13.  L.E.A.