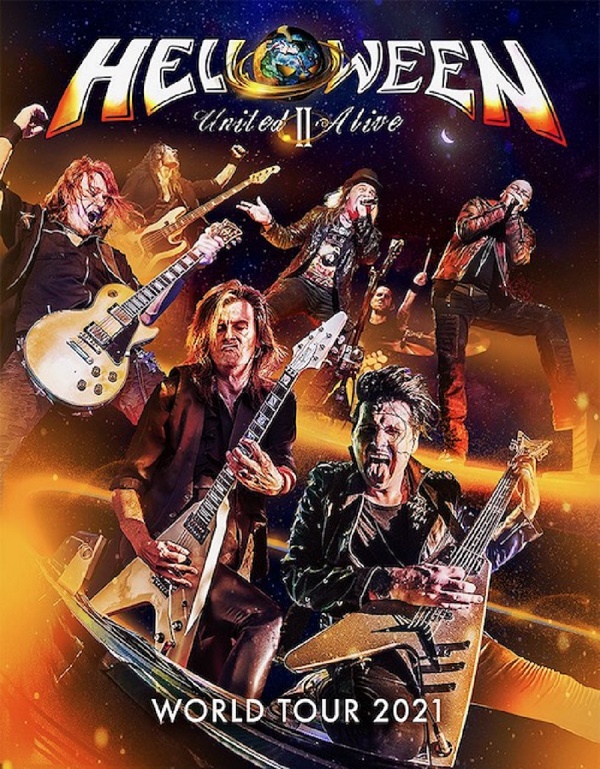 HELLOWEEN haben die Ersatzdaten ihrer verschobenen "United Alive World Tour Teil II" bekannt gegeben. Der Schweizer Gig findet am 28. April 2021 in der Samsung Hall in Zürich statt.
"This never seen before pandemic challenges all of us, and we feel the risk of a contamination is still way too high. Besides, the national regulations of the individual countries make the execution of the tour in its entity very uncertain.
A HELLOWEEN concert should be a gathering of all fans having fun, enjoying themselves by celebrating the music we all love. The current situation worldwide does not allow such an unconcerned manner yet. We also decided to shift the release of our yet untitled new album to early next year. The production is on the home stretch: The mixing, by Ronald Prent in New York, is working to the fullest." 
Apr. 16 - RUS -St. Petersburg, A2
Apr. 18 - RUS - Moscow, Adrenaline–Stadium
Apr. 24 - ES - Barcelona, St.Jordi Club
Apr. 25 - ES - Madrid, WiZink Center
Apr. 27 - IT - Milan, Lorenzini District
Apr. 28 - CH - Zurich, Samsung Hall
Apr. 30 - DE - Hamburg, Sporthalle
May 01 - DE - Stuttgart, Schleyer-Halle
May 03 - HU - Budapest, Papp Laszlo Sportarena
May 04 - AT - Vienna, Gasometer
May 05 - CZ - Prague, O2 Arena
May 07 - PL - Katowice, MCK
May 08 - SK - Zvolen, Ice Stadium
May 11 - EE - Tallinn, Noblessneri Valukoda
May 13 - FI - Helsinki, Black Box
May 15 - SE - Gothenburg, Partille Arena
May 22 - UK - Manchester, Manchester Academy
May 23 - UK - London, Brixton Academy
May 24 - FR - Paris, Olympia
May 26 - FR - Lyon, Le Transbordeur
May 28 - LU - Luxembourg, Rockhal
May 29 - DE - Bochum, Ruhrcongress
Jun. 10 - BG - Sofia, Arena Armeec
Jun. 12 - GR - Athens, Olympic Complex