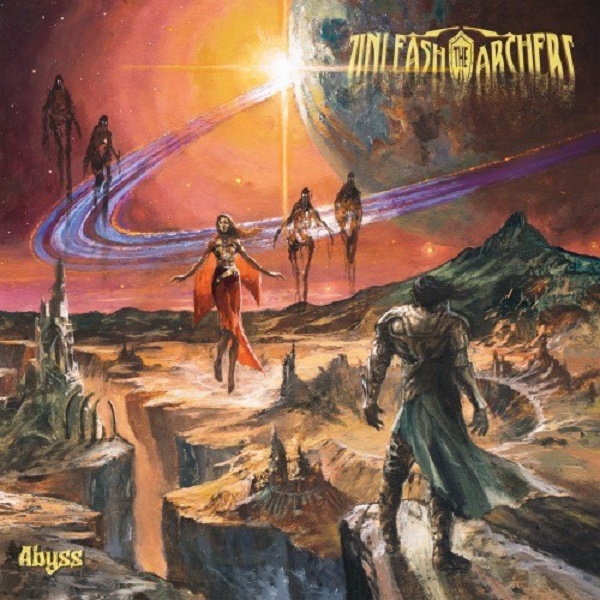 UNLEASH THE ARCHERS veröffentlichen am 21. August ihr neues Werk "Abyss" über Napalm Records. Produziert wurde es von Gitarrist Andrew Kingsley und von Jacob Hansen in den Hansen Studios in Dänemark gemischt und gemastert. 10 Songs werden auf dem Konzeptalbum der kanadischen Power-Metaller sein.
Frontfrau Brittney Slayes:
"Unser Protagonist, The Immortal, wird zu Beginn der Geschichte wieder einmal erweckt, aber diesmal ist er an einem unbekannten Ort: auf einem Schiff in den Tiefen des Weltalls. Eine Zeit lang wandert er allein umher und denkt über seine Missetaten nach, während er nach einem neuen Meister sucht. Schließlich findet er ihn und lernt, dass es der Enkelsohn der Matriarchin, unserer Antagonistin ist. The Immortal hat vor ca. 60 Jahren dem Enkelsohn seinen Vater genommen, um ihn der Matriarchin in einem Ritual zu opfern, um Unsterblichkeit zu erlangen (die Ereignisse auf "The Apex), und nun will der Enkelsohn Rache an der Matriarchin üben, mit Hilfe ihrer eigenen Waffe, The Immortal."
Tracklist: "Abyss"
01. Waking Dream
02. Abyss
03. Through Stars
04. Legacy
05. Return To Me
06. Soulbound
07. Faster Than Light
08. The Wind That Shapes The Land
09. Carry The Flame (feat. Gitarrist Andrew Kingsley als Gastsänger)
10. Afterlife (feat. Orchestrierung von Francesco Ferrini)
CD2:  
01. Waking Dream (Instrumental)
02. Abyss (Instrumental)
03. Through Stars (Instrumental)
04. Legacy (Instrumental)
05. Return To Me (Instrumental)
06. Soulbound (Instrumental)
07. Faster Than Light (Instrumental)
08. The Wind That Shapes The Land (Instrumental)
09. Carry The Flame (Instrumental)
10. Afterlife (Instrumental)