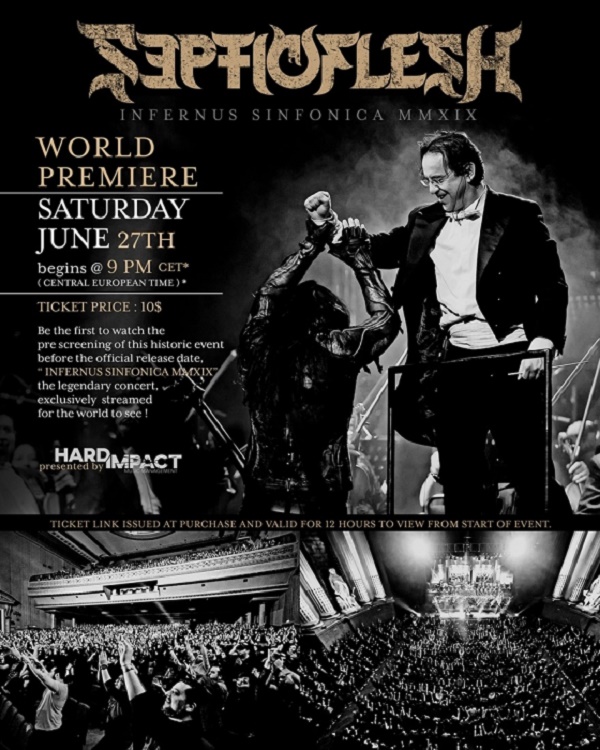 Am 31. Juli soll die Blu-ray-DVD "Infernus Sinfonica MMXIX" erscheinen, dazu werden die Symphonic-Death-Metaller von SEPTICFLESH am 27. Juni um 21.00 Uhr einen DVD-Livestream übertragen. Das Konzert wurde im Februar 2019 im "Metropolitan Theatre" in Mexiko-Stadt aufgenommen mit über 100 Musikern aus dem "Symphonic Experience Orchestra", dem "Enharmonía Vocalis Choir" und des "National University of Mexico Kinder und Jugendchors". Das Ganze bleibt 12 Stunden online, Tickets dafür gibts hier: >>>
Die Band kommentiert: "We are very excited to share with our fans the chance to pre screen "Infernus Sinfonica MMXIX" , our very first concert with a full orchestra and choir on stage which was filmed in the heart of Mexico City. Our management team at Hard Impact arranged an exclusive streaming event for all of you to witness this before the official blu-ray release. The date is set for June 27th, beginning at 21:00 CET. Ticket link will be issued at purchase and will be valid for 12 hours to view from the start of the event. sit back in the comfort of your home and watch the symphonies come to life!"
Tracklist: "Infernus Sinfonica MMXIX"
01. Intro
02. Portrait of a Headless Man
03. Martyr
04. Prototype
05. The Pyramid God
06. The Enemy of Truth
07. Communion
08. The Vampire from Nazareth
09. Dogma of Prometheus
10. Lovecraft's Death
11. Dante's Inferno
12. Persepolis
13. A Great Mass of Death
14. Anubis
15. Dark Art