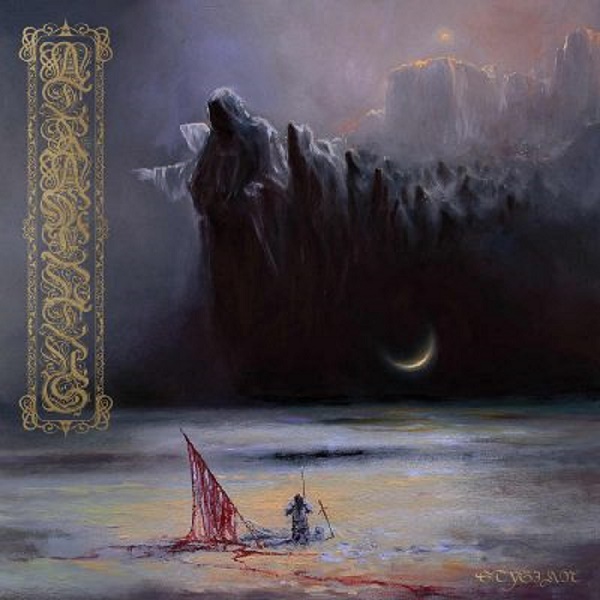 Am 21. August kommt das neue Debütalbum "Stygian" der Funeral Doom Metaller ATRAMENTUS aus Kanada über 20 Buck Spin in die Läden. Die Quebecer Band besteht aus François Bilodeau, Antoine Daigneault (CHTHE'ILIST), Claude Leduc (CHTHE'ILIST, SUTRAH), Phil Tougas (CHTHE'ILIST, FUNEBRARUM) und Xavier Berthiaume (GEVURAH). Das Cover-Artwork stammt von Mariusz Lewandowski, der schon für ABIGAIL WILLIAMS arbeitete. Wie sich das Ganze anhört, kann man sich im Audiostream zum Song 'Stygian (excerpt I)' hier anhören:
Statement vom Label:
Summer is about to get much colder: today we announce the release of 'Stygian' the first album from Montreal's Atramentus. The album is comprised of 3 tracks, two of which are well over 15 minutes each. An excerpt is available to hear via our Youtube channel today. Pre-orders in July.
From the frozen northlands Atramentus unveil the icebound agony of the monolithic 'Stygian'. Birthed on a cold winter night in 2012 and during an autumnal sunset in 2013, the cursed tale remained dormant for years, only recently being put to tape so the nameless knight's saga could be told.
Granted immortality through the gift of the God's sword, the nameless knight eventually witnesses the death of the sun and the end of all life on Earth. Surviving the great deluge, he is left to wander amongst the ruins of a now frozen earth under a sunless sky for eternity, alone and unable to die even by the scorching-cold blizzard winds around him, enduring perpetual physical torture while haunted by the memories of his past life and everyone he once knew buried under miles of ice.
Each of the three epic songs contained within differ widely to reflect the changing of autumn to perpetual winter. While adorned in the language of Extreme Funeral Doom and Dark Ambient soundscape, Atramentus owe further debt to Epic Doom Metal in sound and aesthetic and Black Metal's anguished ferocity. But always the arc of Atramentus remains bound to the tumultuous melancholy and guttural immensity of Extreme Doom.
01. Stygian I: From Tumultuous Heavens… (Descended Forth The Ceaseless Darkness)
02. Stygian II: In Ageless Slumber (As I Dream In The Doleful Embrace Of The Howling Black Winds)
03. Stygian III: Perennial Voyage (Across The Perpetual Planes Of Crying Frost & Steel-Eroding Blizzards)