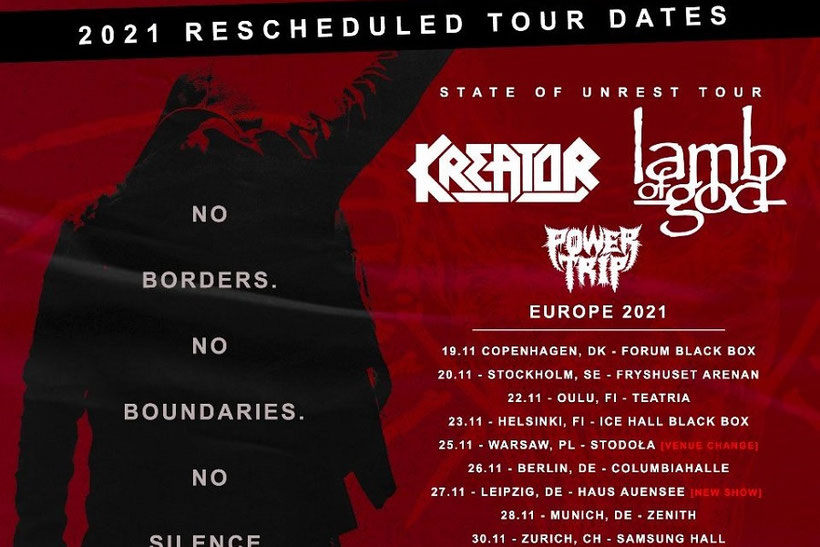 Die Grammygewinner LAMB OF GOD und ihre legendären deutschen Thrashkollegen KREATOR haben die neu angesetzten Daten für ihre "State Of Unrest Tour" bekannt gegeben - inklusive eines Zwischenstopps in KREATORs Heimatstadt Essen! Das Monster-Line-Up wird von der texanischen Thrash Combo POWER TRIP als Support unterstützt.
KREATOR's Mille Petrozza kommentiert: "Besser spät als nie! Wir freuen uns sehr, dass wir endlich gute Nachrichten für unsere tolle und geduldigen Fan-Hordes haben. Nachdem unsere Tour im März und April nicht stattfinden konnte, haben wir gehofft, die Tour Ende diesen Jahres nachholen zu können. Auch das wird nicht möglich sein. Wir werden die Tour 2021 nachholen. Mit neuem Album, neuer Produktion und gemeinsam mit LAMB OF GOD und ihrem aktuellen Kracher - die Tour wird größer und böser als zuvor! Wir sehen uns 2021!".
Die bereits gekauften Tickets behalten ihre Gültigkeit für die neuen Daten. Für weitere Karten und Informationen, schaut auf http://www.stateofunresttour.com vorbei!