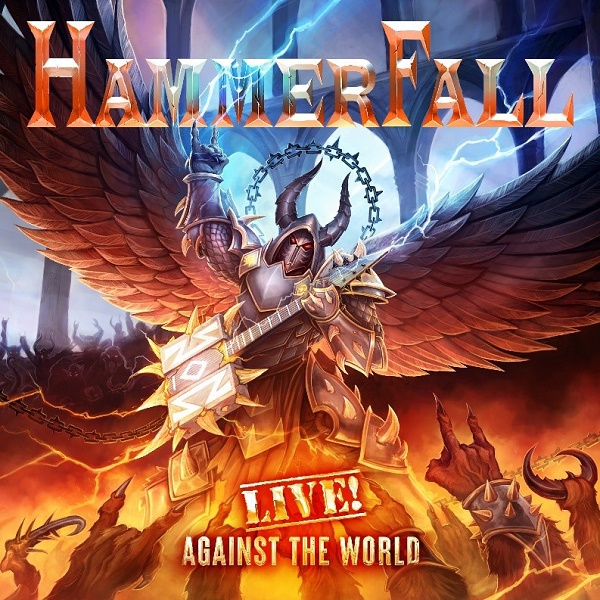 HAMMERFALL haben ihre Show während ihrer "World Dominion"-Tour in der MHP Arena in Ludwigsburg am 15. Februar 2020 aufgenommen und veröffentlichen am 23. Oktober ein Live-Album/Blu-ray unter dem Titel "Live! Against The World" über Napalm Records. Dazu haben die Schweden einen Live-Clip zum Song 'Never Forgive, Never Forget' online gestellt, den man sich hier reinziehen kann:
"Ich bin so verdammt stolz, dass wir in diesen sehr schweren Zeiten eine komplette Live-Show auf dem aktuellen Stand präsentieren können. In einer Zeit, in der echte Konzerte vor "echtem" Publikum gar nicht mehr existieren. Die Show in der MHP Arena Ludwigsburg war einfach episch (...). Es ist die größte Bühnenproduktion, die wir je hatten, und nun könnt ihr sie überall zu Hause erleben, zu jeder Zeit."
Tracklist: "Live! Against The World"
01. Never Forgive, Never Forget
02. One Against The World
03. Heeding The Call
04. The Way Of The Warrior
05. Any Means Necessary
06. Hallowed Be My Name
07. Blood Bound
08. Redemption
09. Hector's Hymn
10. Natural High
11. Second To One
12. Renegade Medley
13. Keep The Flame Burning
14. Dominion
15. The Dragon Lies Bleeding
16. Last Man Standing
17. Let The Hammer Fall
18. Hammer High
19. (We Make) Sweden Rock
20. Hearts On Fire