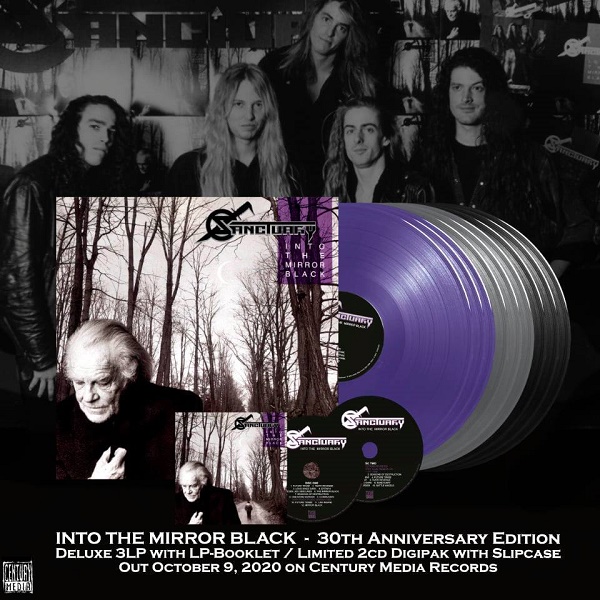 Zum 30-jährigen Jubiläum vom SANCTUARYs "Into The Mirror Black"-Album erscheint am 9. Oktober eine remasterte, limitierte Anniversary-Edition, welche noch Demosongs und Live-Aufnahmen enthält. Gitarrist Lenny Rutledge dazu:
"Wir freuen uns so sehr, endlich diese Special Edition von "Into The Mirror Black" veröffentlichen zu können! Das Remaster der Songs klingt großartig und endlich wird das "Black Reflections"-Konzert von 1990 in all seiner authentischen Pracht veröffentlicht. Das Live-Material wurde von Zeus remixed und remastered. Es gibt keine Neuaufnahmen oder Overdubs. Haltet Ausschau nach SANCTUARY im Herbst 2021, wenn wir das ganze "Into The Mirror Black"-Set spielen. Wir können es kaum erwarten, die Live-Show 2021 nach Europa, in die USA und nach Südamerika zu bringen."
Tracklist: "Into The Mirror Black"
Disc 1
01. Future Tense  

02. Taste Revenge  

03. Long Since Dark  

04. Epitaph
05. Eden Lies Obscured
06. The Mirror Black
07. Seasons of Destruction
08. One More Murder
09. Communion
10. Future Tense (Demo 1989)
11. I Am Insane (Demo 1989)
12. Mirror Black (Demo 1989)
Disc 2
01. Eden Lies Obscured (Live 1990)
02. Seasons of Destruction (Live 1990) 

03. Die For My Sins (Live 1990)  

04. Future Tense (Live 1990)  

05. White Rabbit (Live 1990) 

06. Taste Revenge (Live 1990)  

07. Long Since Dark (Live 1990)

08. Sanctuary (Live 1990) 

09. One More Murder (Live 1990) 

10. Battle Angels (Live 1990)