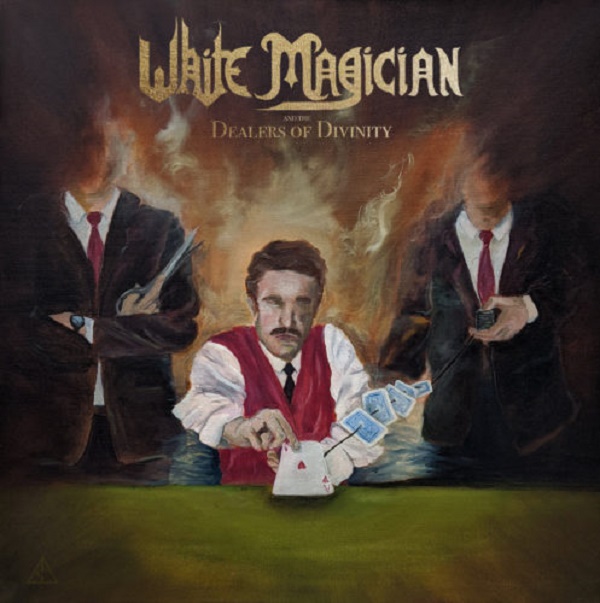 Die US-Old-School-Metaller WHITE MAGICIAN aus Detroit-Michigan brachten 2016 ihre EP "The Pledge" raus, ein Jahr später folgte das Debütalbum "Antipathy". Nun hat die Band endlich einen vernüftigen Plattendeal bei Cruz Del Sur Musik unterschrieben und kündigt die Wiederveröffentlichung des Debütalbums unter dem Titel "Dealers Of Divinity" für den 20. November an. 
"Die Menge an Zeit, Sorgfalt, Opferbereitschaft und Mühe, die in dieses Album investiert wurde, hat es verdient, ein breiteres Publikum zu erreichen. Als sich das 'Cruz Del Sur'-Label die Songs anhörten, war ihre Reaktion dieselbe wie meine, als ich das erste Mal die Band 2016 hörte mit der "The Pledge"-EP. Heilige Hölle, darum geht es bei Heavy Metal Rock and Roll! ".
"Dealers Of Divinity" wurde an vielen Abenden und Wochenenden zwischen Mai 2018 und Dezember 2019 in Lansing, Michigan, von George "The Extortionist" Szegedy aufgenommen und ist klassischer Metal vom Feinsten. Song-Arrangements aus den 70er Jahren, die sorgfältig die großen Einflüsse von WHITE MAGICIAN zeigen, nämlich BLUE ÖYSTER CULT, KING CRIMSON, ANGELWITCH, ASHBURY, MERCYFUL FATE, KING DIAMOND und YNGWIE J. MALMSTEEN, um nur einige zu nennen. Zum Reinhören gibts den Song 'Mad Magic II: In the Absence of Gods (Bad Magic)' als Audiostream.
Tracklist: "Dealers Of Divinity"
02. Mad Magic II: In the Absence of Gods (Bad Magic)
03. Fading Into The Obscurity of Ages
04. In Memoriam; Love and Magic