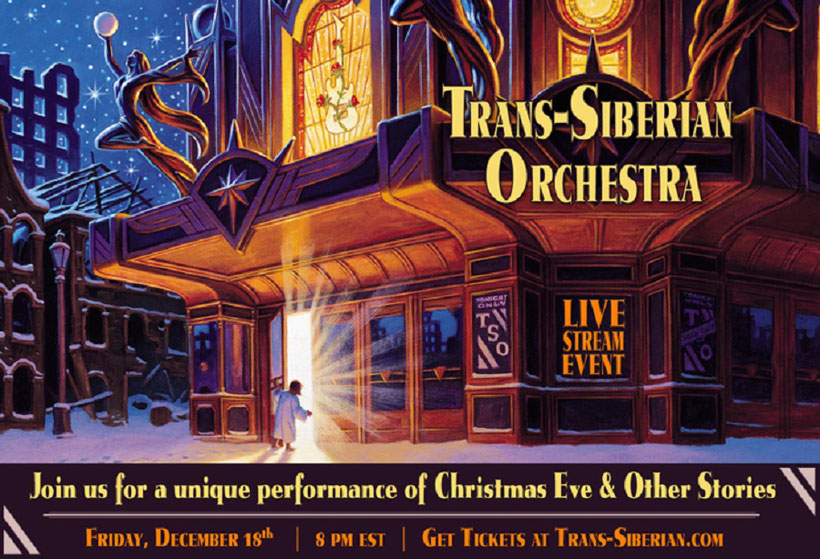 TRANS-SIBERIAN ORCHESTRA streamen am 19. Dezember ihre TRANS-SIBERIAN ORCHESTRAs "Christmas Eve and Other Stories"-Show. Das Ganze findet in der Nacht vom 18. auf den 19. Dezember um 02.00 Uhr statt, wird jedoch noch 48 Stunden als Video on demand online sein.
SAVATAGE-Gitarrist Al Pitrelli dazu:
"So vieles hat sich 2020 geändert. Masken, Social Distancing, Homeschooling, und natürlich auch das Live-Business. Was sich nicht ändern wird, ist unser gemeinsames Feiern der Weihnachtszeit, es wird nur anders werden als sonst. Seit 21 Jahren haben wir das Privileg, unsere Shows, darunter auch 'Christmas Eve And Other Stories' in hunderte von Städten und zu Millionen von Zuschauern zu bringen – und in diesem Jahr bringen wir diese zeitlose Geschichte in die Wohnzimmer. Wir werden es vermissen, die Zuschauer persönlich zu sehen, aber wie Paul O'Neill immer sagte: 'Anpassen, überwinden, und improvisieren.' Und genau das werden wir tun. So haben alle die Möglichkeit, ihre liebste Weihnachtsgeschichte nah dran und ganz persönlich zu erleben. Wir können es kaum erwarten, das mit all unseren Fans zu teilen!"