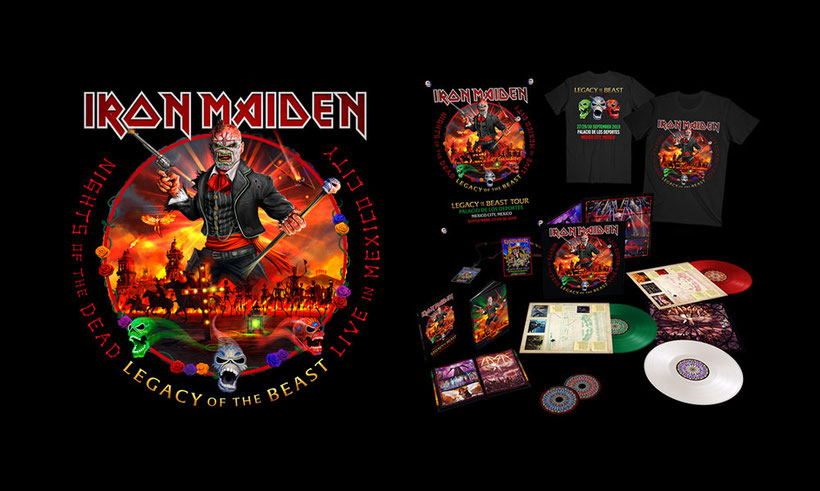 Am 20. November kommt das Doppel-Livealbum "Nights Of The Dead – Legacy Of The Beast, Live in Mexico City" in die Läden. Dazu gibts jetzt ein Live-Musikvideo zum Song 'Sign Of The Cross'.
Bassist Steve Harris dazu: "Als der letzte Abschnitt der 2020er Legacy-Tour diesen Sommer aufgrund der COVID-Pandemie abgesagt werden musste, war die ganze Band sehr enttäuscht und niedergeschlagen und wir wussten, dass unsere Fans sich genauso fühlten. Wir hatten uns wirklich darauf gefreut, die Show in noch mehr Länder zu bringen und auch wenn wir die meisten unserer Shows in Europa auf 2021 verlegen konnten, dachten wir, wir hören uns einfach die Aufnahmen der bisherigen Tour an und sehen mal, ob wir daraus ein ganzes Livealbum als Souvenir machen können, an dem sich dann jeder, überall auf der Welt erfreuen könnte. Ich bin sehr zufrieden mit dem Ergebnis, vor allem, weil die Setlist Songs beinhaltet, die es noch nie zuvor auf eine Live-CD geschafft haben, wie zum Beispiel 'For The Greater Good Of God' und andere ältere Songs wie 'Where Eagles Dare', 'Flight Of Icarus', 'The Clansman' und 'Sign Of The Cross', die viele Jahre nicht auf unseren Live-Releases enthalten waren.
Wir haben noch nie ein Livealbum aus Mexiko veröffentlicht und ich glaube, diese Aufnahme wird der Leidenschaft und Freude unserer mexikanischen Fans gerecht, die uns jedes Mal so fantastisch willkommen heißen, wenn wir dort spielen."