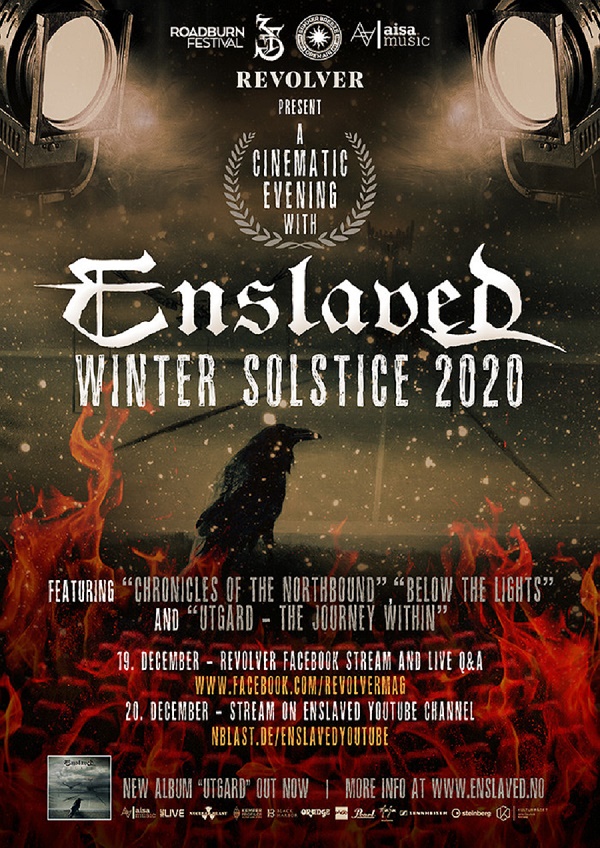 ENSLAVEDs neues Studioalbum Utgard wurde kürzlich auf die Welt losgelassen und beschäftigt sich mit dem esoterischen Ort in der nordischen Mythologie, der die Wiedergeburt des Individuums zelebriert - ein Ort, an dem man für die Vereinigung des Selbst geht und alle Dinge vereint, wie oben so auch unten, Nacht sowie Tag.
Um Utgards Veröffentlichung weiterhin zu zelebrieren und die Wintersonnenwende zu feiern (ein heidnischer Feiertag, der den Tod und die Wiedergeburt der Sonne symbolisiert), kündigt die Band heute ihren Winter Solstice Streamingevent für Samstag, den 19. Dezember via Revolver Magazins Facebook-Seite an. Daraufhin folgt ein Live Q&A mit einigen Bandmitgliedern.
Dieser digitale Event vereint ENSLAVEDs kürzlich absolvierte Cinematic Summer Tour, mit den Teilen 'Chronicles of the Northbound', 'Below the Lights' und 'Utgard the Journey Within'.
Die Performances werden von Revolver Magazine präsentiert und am kommenden Tag, Sonntag, den 20. Dezember auf dem Enslaved YouTube channel wiederholt. Alle drei Events entstanden in Zusammenarbeit miteurpäischen Festivals wie dem Roadburn, Beyond The Gates und Summer Breeze.